Where at Duke is the Blue Devil?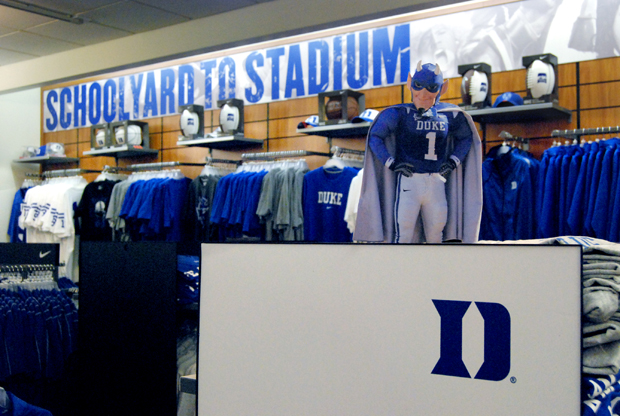 Where's the "Flat Blue Devil?"
The Flat Blue Devil, above, makes a stop for clothing and memorabilia of his favorite Duke teams at the University Store in the Bryan Center. As the largest retail store on campus, the University Store offers the Blue Devil - and Duke community - a variety of gifts, clothing, electronics, school and office
supplies, Duke memorabilia, greeting cards, graduation announcements and
academic regalia. The store also does custom orders on any item,
regardless of price or quantity. Free gift boxes and gift wrapping are
available, too.There are other locations across campus where the Duke community can shop for Duke gear, enjoy annual sales and a 10 percent discount at the Gothic Bookshop. Duke University Stores is ranked as the ninth largest independently operated college store operation in the U.S.
About the "Flat Blue Devil"
The "Flat Blue Devil" makes appearances to showcase locations, resources, services and events of interest to the Duke community. You may also find Flat Blue Devil making stops at a global destination, or other places that hold importance to the community or history of Duke.Part of the fun is faculty and staff can take Flat Blue Devil on an adventure - he can go anywhere as long as there's a strong Duke connection. Let us know where you'd like to take Flat Blue Devil, and we'll send him your way. Then please pass him to friends and co-workers who can show off more of Flat Blue Devil's journey.