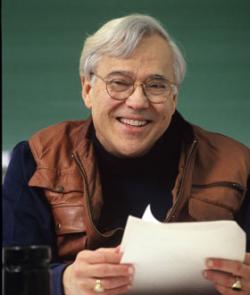 Duke University will host "A Long and
Happy Life: A Celebration for Reynolds Price," at 2 p.m. May 19 in Duke Chapel.
The event honoring the acclaimed author and longtime Duke English professor is
open to the public.
Read More
A
celebrated writer of fiction, poetry, memoirs, essays and plays, Price died Jan.
20 at age 77 after more than 50 years as a member of the Duke faculty.
"For
half a century, Duke University was fortunate to have Reynolds Price in our
midst to teach, inspire and challenge us," said Duke President Richard H.
Brodhead.  "We are honored to celebrate
his life, and we invite the community to share in our remembrance of our
beloved teacher, colleague and friend."
The
celebration will consist of readings, performances and reminiscences by
colleagues, former students and friends of long standing. A reception will
follow in von der Heyden Pavilion in Perkins Library.
Also,
an exhibit featuring manuscripts, photographs, letters and rare books from the
Reynolds Price papers will be on display in the Mary Duke Biddle Rare Book Room
in Perkins Library from 1-5 p.m.
"Reynolds
combined his love for Duke and its students with a sharply honed sense of the
values to which we need to aspire and our sometimes failings in reaching them,"
Provost Peter Lange said. "Whether teaching his beloved students or speaking to
us as colleagues, he always raised our sights and lifted our spirits with a
resonant tone, striking eloquence and great, generous good humor."
Visitors may park in the Bryan Center parking garage off
Science Drive on Duke's West Campus. In addition, parking will be available in
lots along Duke University Road near Chapel Drive. People with accessibility needs
may be dropped off at the chapel, but their drivers must park in general
parking. Traffic is expected to be heavy because of multiple events on campus
that day.
For
those unable to attend, Duke
will provide a live webcast of the event at www.ustream.tv/dukeuniversity.
For
more information and updates, visit http://news.duke.edu/reynoldsprice