Revealing The Top 11 Stories Of 2011
Winner of top headlines contest emerges in Duke Today quiz that stumps entrants
From the launch of a newly designed Duke Today to reflections on the 9/11 terrorist attacks, Duke had a diverse collection of news stories in 2011.
That variety helped only one employee win the "Top 11 of '11" contest in which we asked Duke Today readers to correctly order the 11-most viewed stories between Jan. 1 and Dec. 1.
Kim Talbott, a specialist in the Human Resources Information Center, correctly matched five of 11 stories. She was the winner among 40 faculty and staff who entered the contest.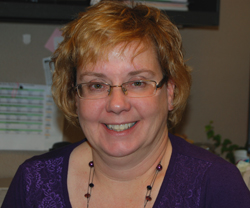 Kim Talbott
Talbott rightly guessed the top-two stories: "Follow '10 Days of Duke Today' to Win iPad2" and "Students as Gifted Yields Impressive Academic Results, Study Finds," noting that stories featuring giveaways would rank high. She said it was harder to place others because of the range of topics, including Duke's annual rank among other universities and the GoPass, a free pass that allows Duke community members to ride for free on some area buses.
"A lot of popular stories are all about playing something or winning something," said Talbott, who reads Duke Today at least once a day. "I thought if a story was important to the community at-large, it must be higher up in the order."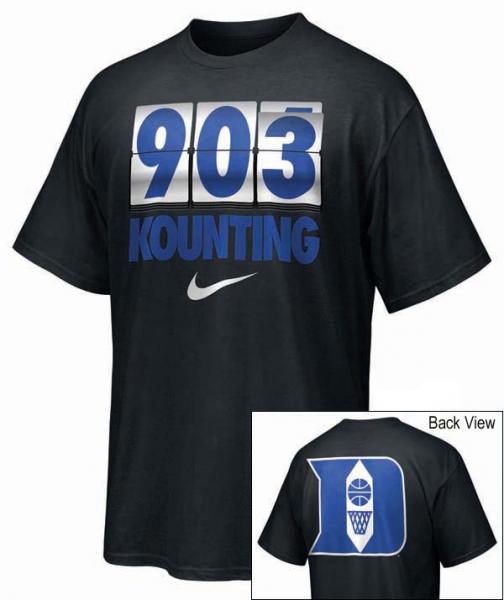 Kim Talbott receives a "903 Kounting" T-shirt as a prize for winning the "Top 11 of '11" quiz.
Talbott won the prize, a Coach K "903 Kounting" T-shirt from Duke University Stores. She plans to give the shirt to her husband, Kelly, as a gift because "he's been a Duke fan his whole life."
Not all entrants did as well as Talbott - eight contest participants didn't guess a single story right. Of the 11 top stories, no participants correctly guessed the placement of "Homework Helps Students Succeed in School, As Long as There Isn't Too Much," which was fifth overall in 2011.
Judy Moore, a financial analyst with the Auxiliaries Finance Office correctly picked three stories. She said the hardest part of the contest was trying to place news stories in order of how everyone would read them, not just by her interests.
"I looked at what articles I knew I had read, plus what I thought the general Duke population would want to read," said Moore, who sets Duke Today as her homepage and checks back to the site a few times a day. "I put a sport story high up even though I wouldn't have read it."
Here's the list of the most-read stories from Duke Today in 2011: