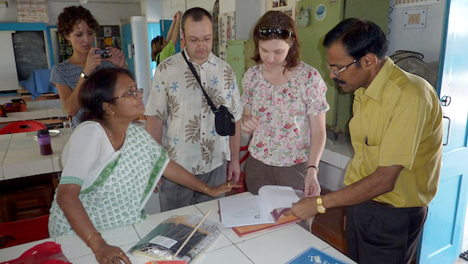 Field trips are nothing new for North Carolina teachers but they're not usually on the scale of one awaiting a group that will travel to India later this month to learn about that country's educational system.
The 12 educators from southeastern North Carolina are scheduled to depart on Jan. 13 to discuss education with Indian teachers and learn how they use standardized tests. The group will also visit historic sites such as the Red Fort in Delhi, the Taj Mahal in Agra and the Victoria Memorial in Kolkata.
"One way to help North Carolina educators become leaders in global education is with opportunities to experience a country whose people and culture are different from their own," said Duke University's Baishakhi Taylor, who will lead the eight-day tour. The North Carolina Consortium for South Asian Studies organized the trip in collaboration with World View of the University of North Carolina at Chapel Hill and the Duke Center for Civic Engagement, where Taylor is the assistant director.
The public school and community college teachers from Duplin and Wayne counties will visit a range of educational settings - schools and colleges, public and private, formal and nonformal and with both traditional and international curricula. Their school districts and the consortium are covering their costs.
The trip builds on two similar visits Taylor led to India last year, one in April with teachers from western North Carolina, and the other in June with Duke education students and their mentors from Durham public schools working together to develop new curricular materials on global topics. In November, Taylor led a group of middle school teachers from Durham and elsewhere that traveled to Nepal to meet with local educators and develop lessons on climate change.
"The experience offered me a personal and up-close perspective, one that cannot be explained with mere words or images," Jo James, an instructor at Isothermal Community College near Asheville, wrote after participating in the April trip. "The people that I met welcomed me into their homes and schools with boundless warmth and graciousness. While our cultures are very different in so many ways, I felt reassured that, as educators, we are all striving to make a brighter future for our students, as well as our societies."
Taylor said responses like that explain why Duke is helping local educators "learn about the world and bring it back to their classrooms and students. The growing diversity in North Carolina has changed the demographics of classrooms across the state. These immersive study tours help teachers gain new perspectives and skills to better prepare their students for a global world. At Duke, we're working hard with our own students to encourage civic engagement and celebrate the ties between what's local and what's global. These trips with North Carolina teachers are in the same spirit."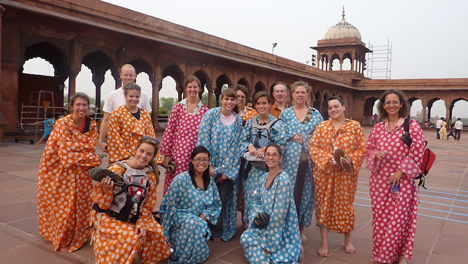 Duke students in the Program in Education and their Durham Public Schools mentor teachers donned robes before entering Jama Masjid, the principal mosque of Old Delhi. The group visited India in July.