Duke-Durham Campaign Kick-Off
Effort gathers support from community partners for local projects
The 2011 Duke-Durham Campaign Kick-Off celebration for community partners and volunteers was held on Tuesday at the Walltown Recreation Center located at 1300 West Club Boulevard.
The kick-off featured comments from Phail Wynn Jr., Duke's VP for Durham and Regional Affairs, Campaign Chair Earl Tye of BB&T Corporation, Jesse Huddleston, a Duke Chapel PathWays Fellow whose community work is being supported by the Duke-Durham Campaign, and Jeanne Bishop, principal of E.K. Powe Elementary, a Duke-Durham Neighborhood Partnership school.
Funds raised through the Duke-Durham Campaign are used to support the Duke Durham Neighborhood Partnership. The Partnership, launched by Duke in 1996, is a unique collaboration involving the university community, twelve neighborhoods and eight schools near the campus. The Partnership boosts student achievement and improves quality of life in these neighborhoods by working with residents and school officials to address community priorities.
The focus of the effort is community members. The campaign is separate from the Doing Good in the Neighborhood drive, which raises money from Duke employees for university projects in the community.
Last year, the Duke-Durham campaign raised $848,434 through in-kind donations, as well as $190,308 in cash donations, all to benefit the neighborhoods and public schools closest to Duke's campus.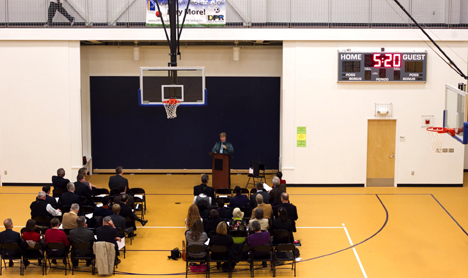 The Duke-Durham Campaign kicks off at the Walltown Recreation Center. Photo by Jon Gardiner.