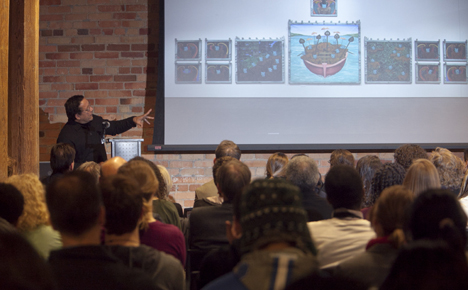 Haitian-born artist Edouard Duval-Carrié discusses artists' response to the Haitian earthquake during the Provost Lecture Series Tuesday in the Smith Warehouse. Now based in Miami, Duval-Carrié established the Haitian Art Relief Fund and curated exhibits of Haitian art following the January earthquake.
During his time at Duke, Duval-Carrié will work with faculty and students on an installation of an art project using resin blocks to represent different images of Haitian history and culture. The exhibit will be showcased next semester in the Smith Warehouse.
The Provost Lecture Series this year is centered on the theme of "Natural Disasters and Human Responses." Duval-Carrié, who works in a range of mediums, spoke of the role artists played in telling stories about Haiti that go beyond the media coverage of disasters. He also has been instrumental in commissioning Haitian textiles for art projects to keep local workers employed there.
(Photo by Megan Morr)