Dukes Enter into Hog Waste Partnership
University and Energy Company Build Pilot Project for Methane Capture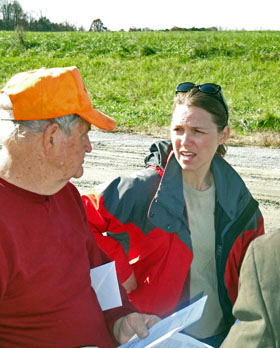 Duke University and Duke Energy are working together to turn hog manure into green gold.
The university and the power company, with financial assistance from state and federal agencies, are breaking ground today (Sept. 27) on a pilot system for managing hog waste that can control greenhouse gas emissions, reduce pollutants and generate renewable energy. It is expected to be fully operational in mid-February 2011.
The prototype system is being built at Loyd Ray Farms, a 9,000-head hog finishing facility in Boonville, N.C., about 115 miles west of Raleigh. It is intended to serve as a model for other hog farms seeking to manage waste and develop on-farm renewable power.
Grant funding came from the United States Department of Agriculture and the North Carolina Department of Environment and Natural Resources Lagoon Conversion Program. Duke Energy and Duke University have been developing the pilot project for more than two years.
Hog waste is more than just an odor problem. The open lagoons currently used to handle the waste are prolific producers of methane gas, which is 21 times more potent than carbon dioxide, pound-for-pound, as a greenhouse gas. Unlike carbon dioxide, however, methane, or natural gas, is a great fuel.
The $1.08 million system being built at Loyd Ray Farms uses mostly off-the-shelf technology, including a lined and covered anaerobic digester and a lined aeration basin. Methane gas collected from the digester will be used to run a "micro-turbine" to generate 512 -- 639 megawatt-hours of clean energy each year.
Capturing the methane creates carbon offset credits for Duke University and using it to generate electricity creates renewable energy credits for Duke Energy.
"Duke Energy is excited to learn more about using hog waste as a renewable fuel," said Emily Felt, director of Renewable Strategy and Compliance at the North Carolina-based utility. "Building a better understanding of this technology allows us to determine how we can bring this type of renewable energy to our customers in a cost-effective way and meet our requirements under North Carolina's renewable energy portfolio standard."
"Duke University has a goal of being carbon-neutral by 2024," said Tatjana Vujic, director of the university's Carbon Offsets Initiative. "That goal can't be reached only by making our buildings more efficient or reducing the miles we drive -- although we're working on all of those things aggressively. We need to account for those greenhouse gas emissions we can't reduce by preventing or reducing emissions elsewhere -- what are called carbon offsets. And we want those offsets to come from projects that make a difference to our local and regional environment and economy."
The system will also handle liquid wastes better. Raw wastewater from the animal barns will be initially treated in the anaerobic digester, and then routed to the aeration basin for further treatment. The treated liquids that emerge will be recycled as flush water for the hog houses, forming a closed circuit. Any treated water left over from the system will be stored in the farm's existing 17-million-gallon open lagoon, and can be used for crop irrigation as waste concentrations are diluted over time.
Federal and state agencies have put up $500,000 toward the construction costs through a Natural Resources Conservation Service Cooperative Conservation Partnership Initiative (CCPI) grant and funds from the state's Lagoon Conversion Program, which was established by the North Carolina Swine Farm Environmental Performance Standards Act of 2007. Duke Energy and Duke University will share the remainder of the construction costs. They'll also provide the majority of support for the first ten years of operation and maintenance costs.
"It's this type of partnership between the private and public sectors that will help bring successful implementation of innovative animal waste management technologies in North Carolina," said Pat Harris, director of NC-DENR's division of Soil and Water Conservation. "We're very proud to be part of the collaborative effort between Mr. Bryant, and the many dedicated professionals from Duke University, Duke Energy, USDA Natural Resources Conservation Service, DENR's Division of Water Quality and Yadkin Soil & Water Conservation District."
"We see NRCS support of environmentally sound, innovative waste treatment technologies through participating in this robust partnership as the only practical, effective way of piloting projects that can ultimately become a vital part of treating the waste stream from confined animal operations in North Carolina," said J.B. Martin, USDA NRCS State Conservationist. "We are hopeful that through involving the emerging carbon and energy markets, adopting these technologies will become more economically palatable for producers. It is great to have Duke University and Duke Energy, as well as our traditional partners with the NC Division of Soil & Water Conservation, involved in this project."
In exchange for hosting the experimental pilot project, farmer Loyd Bryant, who switched from tobacco and beans to hog finishing in 1998, gets the infrastructure at no cost. After 10 years he will own the system free and clear. He will also save quite a bit on his light bill.
The utility and the university share the name Duke for a reason: Both were founded on the foresight and investment of James Buchanan Duke in the early 20th century. Duke University's carbon offsets initiative was created with support from the Duke Endowment of Charlotte, N.C.