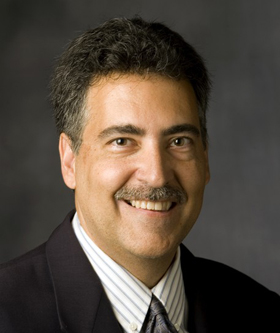 There will be a new look at the front of the procession Wednesday for Student Convocation. For the first time in a decade, former University Marshal Richard White won't carry the university mace to lead Duke faculty and administrators into the Duke Chapel ceremony.
After serving two five-year terms, White, a University Distinguished Services Professor Emeritus, stepped down as university marshal following commencement in May. In consultation with faculty members, administrators decided to forgo appointing a replacement for White and instead gave the position to the chair of the Academic Council.
Succeeding White will be current council chair is Craig Henriquez, professor of biomedical engineering and computer science. He will carry the mace for the first time at Wednesday's convocation.
The largely ceremonial marshal's position is most prominent at official university events, which include the year-opening convocation, Founders' Day, baccalaureate and commencement. But Henriquez said there's a strong message behind institutionalizing the role played by the head of the highest university faculty body in official university ceremonies. It's no easy feat. The mace is 37 inches long and made of sterling silver weighing more than seven pounds.
"I hope the message is to remind everyone that the faculty are present in the lives of students from the first day they arrive on campus until the day they graduate and that the faculty has the responsibility to approve all candidates for degrees both earned and honorary," Henriquez said. "Now the chair of Academic Council will have a formal role in both the approval and conferring of the degrees."
To differentiate the new position from the former university marshal role, its title has been tweaked: university faculty marshal. Henriquez, who has been working with faculty and administrators to raise the profile of the council, said he's looking forward to the role, noting it is commonly held by the chair of the faculty senate at other universities.
"Since I first arrived at Duke in 1977 as an undergraduate, I believe there have only been two marshals -- Pelham Wilder and Dick White," he said. "So I am humbled to be able to carry the mace, that represents the authority of the university, in an official capacity."
"I will be learning as I go," he added. "Unfortunately, you do not get any rehearsal time."
If the university faculty marshal for some reason is unable to attend these ceremonies, the associate university marshal, currently held by Senior Associate Trinity College Dean Gerald Wilson, will carry the mace.
White, who joined the Duke botany faculty in 1963, became university marshal 10 years ago after serving many years as dean of Trinity College.
"Dick White has played so many roles in his years at Duke -- professor, dean, head of the Duke Gardens and, lately, university marshal," said Duke President Richard H. Brodhead. "We are indebted to Dick for his enthusiastic service to the university, and I'm personally grateful for his dedication to our university ceremonies while I've been president."
White said he will continue an active research program in his botany lab. But White added he immediately noticed one change this semester.
"I didn't know when the school year started," White said with a laugh. "Being university marshal really kept me in touch with the annual rhythm of the university, when the key dates are. This year, I was completely lost as to when the students arrived and when is orientation.
"I have a personal philosophy that I don't do things that I don't enjoy, and I can say being university marshal was absolute fun," White added. "It was a great opportunity to stay in contact with students and faculty. I worked with wonderful people like Gerald Wilson and [Alumni Affairs director] Sterly Wilder. It was an honorific position but also very enjoyable."