National Volunteer Week: Serving Meals at Urban Ministries
Duke communicators assist with Durham's growing hunger problem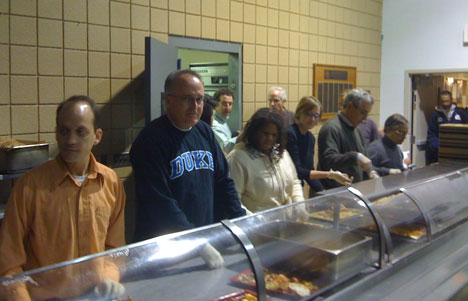 Of all the many things I've learned in my 24 years at Duke, the most unexpected was how to make a decent meatloaf for 150 people.
Neither did I ever think I'd learn to tame an industrial fryer, nor did I expect to be struck dumbfounded while listening to a hungry man play show tunes on a battered piano.
But my fellow Duke communicators and I have learned to expect such experiences while volunteering at the Urban Ministries. Since December 2008, a group of us have raised funds, planned, bought and prepared meals and then served them to Durham's hungry once a month.
In 2008, following the collapse of the stock market, Associate Vice President David Jarmul and Media Relations Director Keith Lawrence presented an idea to the Office of News and Communications: Instead of our regular holiday party, we would take the money and use it to buy and prepare a holiday dinner at Urban Ministries, located in downtown Durham across from the county library.
For that first meal, we served around 200 spaghetti dinners. For most of us, it was our first experience at a shelter. For me it was bittersweet. I saw elementary school children studiously doing homework in advance of the meal, then reading more while they ate spaghetti. A few people complained about portions or were unhappy for just being there.
But it was a feeling unlike we had ever had after a holiday party, and afterwards, several of us wanted to continue the effort. Over the next months, we talked with other Duke communicators about establishing a regular program of a monthly lunch.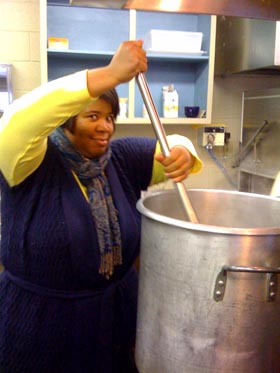 Tam Ferguson stirs the big pot at Urban Ministries.
We've been at it since March 2009. We serve between 130-160 people a meal. Many of us come with our Duke hats or shirts, and during basketball season we get some of the best conversations about the team there.
Karl Bates, one of the four project organizers, is a former short-order cook and is the king of the UM's massive oven and stove, donated by the old King's Daughters Home. We've learned that sloppy joes for 150 can be flavorful, and watching Karl and others toss around the Worcester sauce is enjoyable, but even more so when you see how much the patrons enjoy the meal.
And the clients are full of surprises themselves. We see a number of regulars, but each time there are new people. One month, an old man missing most of his teeth came on through. I remembered him because he lightly whistled while he spoke. He thanked us for the meal and moved on. Fifteen minutes later, I start hearing the piano in the back of the room playing. It's the man who just went through the line. One of the staff volunteers walks over and starts singing. For the next 15 minutes or so, they work through tunes from Cats to tremendous applause. I hate the musical. But this was special.
We're a small group, and one of the problems is raising the $230 a month needed to buy the food. Our goal is to keep the group large and sustainable, so we are looking for more volunteers to help with money and time. We are scheduled for the second Sunday of every month.
If anyone is interested in helping with the Urban Ministries effort, e-mail geoffrey.mock@duke.edu or call 681-4514.