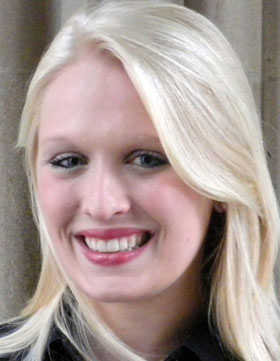 Duke junior Lindsey Marie Wallace, whose extracurricular activities include working with recovering addicts in Durham and animal welfare causes, was named the winner of a prestigious Truman Scholarship on Tuesday.
Truman Scholars are chosen based on their academic success, leadership potential and commitment to a career in public service. They receive $30,000 for graduate study, priority admission and supplemental financial aid to some top graduate programs, as well as leadership training and career counseling. (The organization's website is at http://truman.gov/home.)
While at Duke, Wallace has worked to raise supplies and grant money for local low-cost spay/neuter clinics. She is president of the PetICare animal volunteer organization at Duke and has established a student advocacy group with the mission of obtaining a $100,000 grant to fund TNR (Trap-Neuter-Return) programs in Durham County.
She also has volunteered with TROSA (Triangle Residential Options for Substance Abusers) and provided voting materials to rural areas and low-income residents in North Carolina. "Lindsey is not an animal welfare version of a 'tree hugger'; that is she is not driven by sentimentality but by a keen sense of justice. She spends far more time writing grant proposals than she does petting kittens," Melissa Malouf, director of Duke's Office of Undergraduate Scholars and Fellows, wrote in Wallace's scholarship application.
Wallace, of Simpsonville, S.C., is one of 60 students from 54 U.S. colleges and universities selected this year by the Harry S. Truman Scholarship Foundation. The organization received 576 applications from 245 colleges and universities for this year's competition. A selection committee then chose 200 finalists from 131 colleges and universities.
At Duke, Wallace received a Benjamin N. Duke Scholarship, which are undergraduate merit awards presented annually by a faculty committee to students from North and South Carolina who demonstrate strong academic performance, outstanding leadership ability and community involvement.
That scholarship covers full tuition, two paid summers of service and a strong in-school leadership program to enhance the students' studies. Based on estimated tuition rates, this scholarship is worth more than $200,000 to a student enrolled for four years.
Wallace, 21, is pursuing a double major in political science and psychology at Duke. After graduating in 2011, she plans to jointly pursue a law degree and master's degree in public policy, either at Duke or Georgetown University. Her goal is to use her education for the benefit of those "without a voice," including children and animals, she said.
"I'm really passionate about animals and I'd like to work with nonprofits, such as the Animal Legal Defense Fund," she said.
Wallace becomes the 39th Duke student to receive a Truman Scholarship since the program was initiated in 1977.