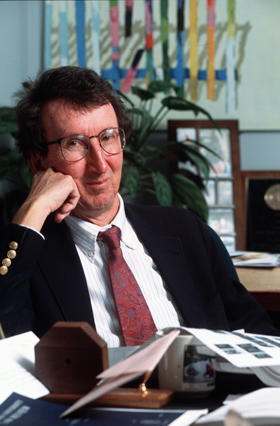 Duke Law School will launch a unique master's program in law and entrepreneurship in the 2010-11 academic year.
The Law and Entrepreneurship LLM Program will be a two-semester, 23-credit program that builds on Duke Law's existing strengths in the fields of business law, intellectual property law, and innovation policy. It will also take advantage of strategic ties to entrepreneurial companies in nearby Research Triangle Park, school officials said.
The program will provide a rigorous academic and experiential foundation for lawyers who plan to be involved with innovative business either as advisers or, as is increasingly common, as CEOs or other executives, said David F. Levi, dean of Duke Law School. Admission is limited to applicants who hold a JD or an LLM from an American law school.
"Entrepreneurship and innovation are central to efforts to create broad-based, sustained economic growth, as well as to solving complex social problems," Levi said. "In America and, increasingly, on a global basis, we look to the entrepreneurial sector for creativity and solutions. The ongoing economic shifts resulting from the crisis in the global capital markets are likely to accelerate this trend. As a result, we believe that this program, which focuses on how the law and lawyers can best support entrepreneurship, is extremely timely."
Levi noted that lawyers often are among a startup's handful of founders or leadership teams. "Early-stage CEOs must negotiate an array of issues with legal content or consequence, such as those relating to funding, finance, intellectual property protection and licensing, regulation, technology, deal-making, taxation, risk management, and many others. Indeed, in the entrepreneurial context, the relationship of the lawyer and the businessperson is so intertwined that a competent lawyer must understand the business and a competent businessperson must understand the law.
"Our program in Law and Entrepreneurship will offer a valuable foundation for graduates who plan to be involved in this unique part of the business world as advisers, executives, or even as CEOs. As we develop the curriculum for the LLM, we will end up strengthening all of our business offerings for all of our students."
James Cox, Duke's Brainerd Currie Professor of Law and a leading scholar of corporate and securities law, will serve as the initial faculty director for the program, and a number of other faculty will teach courses relating to innovation, intellectual property, finance, and business law. In addition to courses, all students will participate in a practicum and a capstone project.
Getting hand-on experience in biotechnology and health, information technology, and social entrepreneurship all areas thriving at Duke and in RTP and the Triangle region will be central to the program.
"We aim to really connect doctrine and theory with practice opportunities, so that LLM graduates will complete the program ready to practice at a very high level," said professor Andrew Foster, who directs Duke Law School's clinical programs as well as its Community Enterprise Clinic and Entrepreneurial Law Clinic.
The practicum will place students either in-house with a company, with law firms advising entrepreneurial ventures or in other similar settings. The capstone project will engage students in scholarly research tied to entrepreneurship and policy or in teamwork "to basically bring a company out of the ground," he added.
For more information on the Entrepreneurship and Law LLM Program, visit http://www.law.duke.edu/admis/degreeprograms/llm.