Diversity and the Strategic Plan
Today, Duke takes a broad approach to diversity recruitment
When Jacqueline Looney started recruiting graduate students in 1987, minority recruiting meant attracting more black students. Two decades later, Duke's goal is broader and more ambitious.
"When Duke first started looking at diversity and more specifically the very small number of black students we had in Duke's graduate program, we knew we had to be very intentional about what we wanted," Looney said. "We made no apologies then or now that we were looking for black graduate students.
"But we've moved a long way from that time. We've produced black students in many of our fields here who have done well. We had a focused goal that we had to meet, and we learned a lot from doing those things. One of the best things about that initiative is we became a stronger, more respected university because of it. Now we can apply those lessons to a broader definition of diversity, so that we can continue to become stronger and more respected around the world."
Stories in Duke Today throughout this week have traced the progress of minority recruitment at Duke in the 1980s and '90s. As Duke entered a new century, minority recruitment became diversity recruitment. This broadened effort to attract and support the best students and scholars of all backgrounds has largely worked, but "nobody is declaring victory," said Provost Peter Lange.
"We haven't accomplished all that we can," Lange said. "There is more work that can be done. But the change is tremendous. You just walk around campus, and you see the difference."
In 2003, the Black Faculty Strategic Initiative (BFSI) was ending its 10-year run. In the same year, the Women's Initiative released its report after a year-long study initiated by then-President Nannerl O. Keohane. The confluence of the need for a new diversity plan and the release of the Women's Initiative report had many voices on campus calling for an expansion of diversity recruitment.
The other driving factor, Lange said, was Duke's emerging global priorities. Diversity recruitment was essential to Duke becoming a major international player, just as recruiting blacks was necessary to raising the reputation of Duke's faculty and student body in the mid-1980s, he said.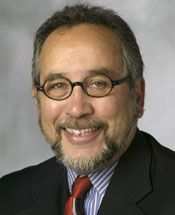 Provost Peter Lange
"By 2003, people were convinced that diversity was an important component of our education and research mission. There was ever-growing evidence that a diverse faculty produced a wider range of questions in research, a broader range of topics and brought more to bear on pre-existing topics from different perspectives."
Unlike in the 1980s when the original Black Faculty Initiative was heavily debated on campus, the new Faculty Diversity Initiative faced little opposition when proposed in 2003. There was wide consensus on campus, Lange said, that diversity was needed for both historic and academic reasons.
This consensus is described in Duke's 2006 strategic plan "Making a Difference:"
Changes in our own community and in the world at large demand that we take a multipronged approach to our own commitments to assure that different cultures, differing perspectives are not only represented in our community but that they also intersect and interact, and that we strongly promote mutual respect for and mutual learning between all who work, study and learn here. If Duke is to achieve the excellence to which it aspires we must seek that talent from all backgrounds and places on the globe.
Today, the university still tracks numbers with the goal of increasing the presence of underrepresented groups, but greater attention is now paid to where the hires are made, Lange said.
Discuss "Diversity & Excellence" Online
Vice Provost Nancy Allen will discuss diversity at Duke during the weekly online "Office Hours" at noon (EST) Friday, Dec. 11.
Allen will take questions from the public on Duke's Ustream channel.
Viewers can submit questions in advance or during the session by email to live@duke.edu, on the Duke University Live Ustream page on Facebook or via Twitter with the tag #dukelive.
Political Science Professor Paula McClain, who originally was to also participate, will not be able to make the broadcast.
"There are some fields where adding an African American faculty member doesn't improve diversity," Lange said. "Asian Americans are not a minority in certain fields in the sciences or engineering. We're not going to put a lot of diversity resources into adding an Asian American there. However, it is a big goal to get an African American or a woman into those fields. We will spend our resources where a department makes a big effort and has the potential for great impact."
Many of the methods for implementing the diversity plan harken back to those used during the Black Faculty Strategic Initiative in the 1990s, said Dr. Nancy Allen, vice provost for faculty diversity and development. Each dean submits an annual faculty search plan, which is reviewed by the provost's office. Allen, the Faculty Diversity Working Group chaired by the provost and a standing Committee on Faculty Diversity all review the sections of these plans pertaining to diversity. When the plans fall short of expectations, the deans hear about it, Allen said.
"We're building on the variety of past methods that we thought had been successful," Allen said. "We encourage search committees to put together a broader network with which to seek candidates and to get names from sources that they hadn't sought previously. Peter [Lange] talks with the dean's cabinet; our committee has met with each of the deans. The issue gets before the right people on a regular basis."
To boost the pipeline, Duke offers a program, recommended by a former Duke undergraduate, for select postdocs who will enhance faculty diversity at Duke or peer institutions. Another program, the Dean's Graduate Fellowship, is provided to graduate students who by reason of their background, research or life experiences contribute to a more diverse academic life.
At the undergraduate level, expanding financial aid to international students has also had a recent impact on the undergraduate population, officials said. Nearly six percent of the undergraduate population comes from foreign countries.
Across the campus, Dr. Victor Dzau, chancellor of health affairs, has set an example of hiring a diverse leadership for Duke Medicine that has made it a model for programs across the nation. Dzau's efforts continue a history of diversity initiatives at the medical center, which traditionally has been ahead of the campus in minority numbers in the faculty and student body.
Outside of the classroom, the Office of Institutional Equity (OIE) is the focal point for a variety of efforts to promote diversity on campus. In 2001, Ben Reese, OIE vice president, started a diversity leadership group with senior leaders at Duke Hospital. The group would meet to report on their progress with diversity initiatives, introduce new ones and educate themselves on diversity issues. The group was such a success within Duke's health system, Reese has begun a similar group on the university side, comprised of deans, co-led by Provost Peter Lange. This fall, he held a meeting with just over a dozen university deans.
"If you're going to change a culture, you need to get the top leaders involved and engaged," Reese said.
Between 1988 and 2008, the number of Hispanic and African-American students doubled even as the number of total undergraduates remained stable. Meanwhile, the number of foreign students has tripled, and the number of Asian-Americans has increased nearly five-fold. The number of white undergraduates, who now comprise 51 percent of the total undergrad population, has declined from 5,233 to 3,226, a 38 percent decrease.
But Duke officials also acknowledge a tension between globalization and long-standing traditional efforts to recruit African Americans. That tension was recently evident in student protests against the proposed merger of International House and the Multicultural Center. That proposal is now under review.

The challenges are also evident in faculty recruitment. When the BFSI ended in 2003, Lange pledged that Duke would not diminish its efforts to attract the best black students and scholars. Yet some of the units that have been most successful in making international inroads are struggling to recruit African Americans.
The tension in globalizing diversity points to a conversation that Duke must continue to have, said Lee Baker, dean of Trinity College academic affairs and a former member of the Committee on Faculty Diversity.
"Globalization allows us to say that we are promoting diversity in the cause of our academic mission," Baker said. "That's a very good thing. But it is important to understand that enhancing globalization does not necessarily address the historic injustices that developing and recruiting under represented students and faculty tried to do in the 1980s. We still have a ways to go before we improve the situation of underrepresented minorities, and particularly those who are poor. We must be mindful that we can't lose ground."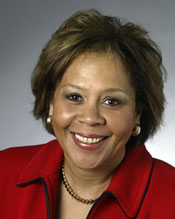 Political Science Professor Paula McClain
"This is a delicate balancing act and I think Duke is doing well in keeping all of the different balls in the air," said Paula McClain, professor of political science and co-director of the Center for the Study of Race, Ethnicity and Gender in the Social Sciences. "Nevertheless, the university has to maintain its focus on the recruitment of African Americans and not assume that the push to become a more global university will automatically include the recruitment of black American faculty."
By several measures, the move to broader diversity efforts hasn't diminished African-American recruitment. The undergraduate black population continues at around 10 percent and graduate student recruitment remains steady. When the Black Faculty Strategic Initiative ended in 2003, Duke had 98 regular rank black faculty members. For the 2009-10 academic year, Duke had 128.
Echoes of black recruiting efforts of the 1980s also can be found in other policies today. The collection of family-friendly policies for faculty and students that Duke has developed owes some debt to its informal efforts to support women and minority candidates in the 1980s. Likewise, mentoring initiatives that were an essential part of minority recruitment -- and were further developed in 2002-03 by the Women's Initiative -- are commonplace today.
"I recall the day in 1978, when I had to send in my medical residency match list, I had two envelopes, one for North Carolina and one for Massachusetts," said Allen, whose position as vice provost for faculty diversity and development literally links diversity recruitment with support services. "I had to find out first where my husband Barry had a spot in a Ph.D program. As soon as we knew he had a spot at Duke, I only mailed the North Carolina envelope. The idea of working to recruit a couple just wasn't done.
"Now we regularly help career couples, and we want faculty to know that we are going to help them with those issues. Some of that comes from our experience in recruiting minority faculty."
Camille Jackson assisted with reporting on this story.