Student Project Leads to Duke's New TV Spot
The new 30-second TV spot will run at halftime or other breaks during many of Duke's televised football and basketball games this season.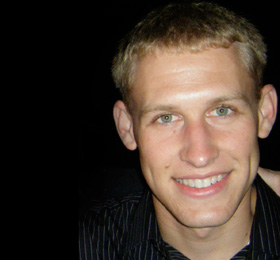 When Dan Piech decided to pursue a capstone project during his senior year at Duke, his inspiration came from a 30-second TV spot that aired during Blue Devil football and basketball games.
The spot, about the wide variety of opportunities available to students at Duke, ended with two Duke students looking into the camera and saying, "And we just produced our first national television spot."
That TV spot, Piech said, drove him "to make my own rendition -- I just wanted people to know how great Duke is, what an amazing place it is."
Pursuing his Film/Video/Digital certificate. Piech worked 300 hours to produce a two-and-a-half-minute video about Duke that soon became a minor YouTube sensation. After campus administrators saw it, the video became something more: the basis for Duke's new 30-second TV spot, which will run at halftime or other breaks during many of Duke's televised football and basketball games this season.
"From the start of this project, I had hopes that it would reach the level of being Duke's TV spot," said Piech, who graduated in May and now works for a Reston, Va., digital marketing research firm. "So I was really hoping for this to happen all along, but was pleasantly surprised when it happened on its own."
To produce the video, Piech (pronounced pea-eck) first developed a storyboard. The economics and public policy major from Montgomery, N.J., wanted to show how Duke helps foster students who are well-rounded -- focused both on academics and "having a good time, such as camping for basketball for two months. It's an excellent combination."
He then enlisted the help of about 50 friends, who helped lug around camera equipment and serve as actors. "I called in a lot of favors and issued a lot of thank you's."
Once, when their camera dolly would not fit through the doorway of a building, the team improvised and perched the camera on a semi-flexible board spread across a desk chair, to minimize vibrations from the wooden floor.
Among the many places highlighted in Piech's video are the Sarah P. Duke Gardens, Duke Chapel, the West Campus bus stop, Cameron Indoor Stadium and the library.
"There are so many cool places at Duke that I wanted to get on film to characterize the life of the university," he said.
Piech credits his classmate Lydia Yao for her help in conceptualizing and creating the graphics that overlay the video.
He also cites the guidance of Josh Gibson, the director of the Film/Video/Digital program (now called the Arts of the Moving Image), who led the capstone class, and Raquel Salvatella de Prada, who taught Piech's class on motion graphics.
"I think the people at Duke are unbelievable on all levels -- the students, the professors, the staff," Piech says. "To have an intelligent conversation with a student in the dorm or to have a conversation with a professor about an economic model, these are driven, passionate people." _ _ _ _
For more examples of Piech's work, go to www.piechproductions.com.