Volunteer Fair, Concert Highlight National Day of Service and Remembrance (updated)
Wreath laying ceremony this morning starts day of events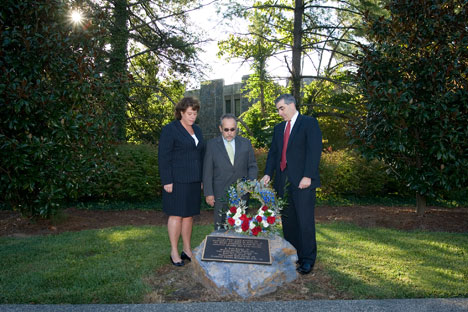 On Friday, Sept. 11, the new National Day of Service and Remembrance will be observed on the Duke campus with a volunteer fair, moment of silence, candlelight vigil and concert, among other events.
In April, President Obama signed the Edward M. Kennedy Serve America Act which, for the first time, officially recognizes Sept. 11 as a National Day of Service and Remembrance.
From noon to 3 p.m., the university's Center for Civic Engagement will sponsor a volunteer fair that will bring about 40 nonprofits to campus to meet with students who may be interested in serving with their organizations. Student service clubs will also be seeking new members. The fair will be held in the Schaefer Mall area of the Bryan Center.
There will be a campus-wide moment of silence at 8:46 a.m. organized by the Duke Student Government, Duke ACLU, Duke Conservative Union, Duke Democrats, Duke Republicans, and Purple. The time coincides with the moment the first hijacked plane hit the World Trade Center.
"As many of our students and faculty have family who have served or still serve today in Iraq and Afghanistan, this moment of silence is a time, as a Duke Community united, to show our continued support of our troops and their missions overseas," Sue Wasiolek, assistant vice president of student affairs, wrote in an email to students this week. "This anniversary of September 11th is an opportune time to reflect on these sacrifices of military service that many have given and continue to give on our behalf."
In addition, the Duke Alumni Association will be placing an ad in the Chronicle, and Alumni Affairs Executive Director Sterly Wilder will place a wreath at a memorial plaque in Keohane Quad Memorial Grove, in memory of the six Duke alumni who were killed in the Sept. 11, 2001 attacks.
The National Day of Service and Remembrance will culminate on the Duke Chapel lawn with an 8 p.m. candlelight vigil in which the names of Duke alumni who perished in the 9/11 attacks will be presented and a concert sponsored by Purple, a new student group that seeks to inspire social activism among college students.