John Hope Franklin, Scholar Who Transformed African-American History, Dies at 94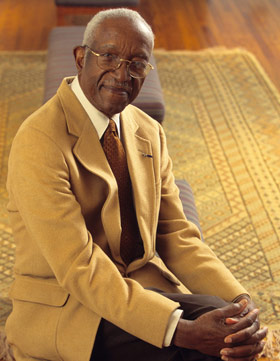 John Hope Franklin, the scholar who helped create the field of African-American history and dominated it for nearly six decades, has died at the age of 94.
Franklin died of congestive heart failure at Duke Hospital this morning. He is survived by his son, John Whittington Franklin, daughter-in-law Karen Roberts Franklin, sister-in-law Bertha W. Gibbs, cousin Grant Franklin Sr., a host of nieces, nephews, great-nieces and great-nephews, other family members, many generations of students and friends. There will be a celebration of his life and of his late wife Aurelia Franklin at 11 a.m. June 11 in Duke Chapel in honor of their 69th wedding anniversary.
[In lieu of flowers, the family has asked that contributions be made to the Aurelia W. and John Hope Franklin Endowed Scholarship Fund at Fisk University, c/o Office of Institutional Advancement, 1000 17th Street North, Nashville, TN 37208.]
"John Hope Franklin lived for nearly a century and helped define that century," said Duke President Richard H. Brodhead. "A towering historian, he led the recognition that African-American history and American history are one. With his grasp of the past, he spent a lifetime building a future of inclusiveness, fairness and equality. Duke has lost a great citizen and a great friend."
Franklin, James B. Duke Professor Emeritus of History, was a scholar who brought intellectual rigor as well an engaged passion to his work. He wrote about history -- one of his books is considered a core text on the African-American experience, more than 60 years after its publication -- and he lived it. Franklin worked on the Brown v. Board of Education (1954) case, joined protestors in a 1965 march led by Martin Luther King, Jr. in Montgomery, Ala. and headed President Clinton's 1997 national advisory board on race.
He is perhaps best known to the public for his work on President Clinton's 1997 task force on race. But his reputation as a scholar was made in 1947 with the publication of his book, "From Slavery to Freedom: A History of African-Americans," which is still considered the definitive account of the black experience in America.
"My challenge was to weave into the fabric of American history enough of the presence of blacks so that the story of the United States could be told adequately and fairly," he said when the 50th anniversary of the book was celebrated in 1997. "That was terribly important."
In January 2005, he spoke at Duke at the celebration of his 90th birthday, displaying the fire that motivated him throughout his long life. While others at the event talked about the past and reminisced about his accomplishments, Franklin focused squarely on the future. He described the event, held the same day as President George W. Bush's second inauguration, as a "counter-inaugural," and gave a talk in the form of a letter to a fictional white man he called "Jonathan Doe."
He recounted some of the historical inequalities in the United States and recalled some of his own experiences with racism. He said, for example, that the evening before he received the Presidential Medal of Freedom from President Bill Clinton, a woman at his club in Washington, D.C., asked him to get her coat. Around the same time, a man at a hotel handed Franklin his car keys and told him to get his car.
"I patiently explained to him that I was a guest in the hotel, as I presumed he was, and I had no idea where his automobile was. And, in any case, I was retired," Franklin said. Both of these incidents occurred when he was in his 80s.
"What these experiences will do to me in the long run, I do not know. My cardiologist says that they are not good," he said, continuing with the letter.
"I very much doubt, Mr. Doe, that you have had such experiences. Your race and your consequent position of power and privilege have doubtless immunized you from the experiences that a black person confronts daily, regardless of his age, education, position or station in life." At the time From Slavery to Freedom was published, there were few scholars working in African-American history and the books that had been published were not highly regarded by academics. To write it, he first had to give himself a course in African-American history, then spend months struggling to complete the research in segregated libraries and archives -- including Duke's, where he could not use the bathroom.
Franklin accumulated many honors during his long career, including the Presidential Medal of Freedom, the nation's highest civilian honor. He shared the John W. Kluge Award for lifetime achievement in the humanities and a similar honor from the American Academy of Arts and Sciences and the American Philosophical Society, the nation's two oldest learned societies.
But he also was revered as a "moral leader" of the historical profession for his engagement in the pressing issues of the day, his unflagging advocacy of civil rights, and his gracious and courtly demeanor.
Virtually all of the many articles written about "John Hope," as he was called by friends and colleagues, include the words "distinguished" or "elegant." His devotion to his wife, Aurelia, who died in 1999, was legendary, as was his love of orchids, which he raised in his Durham home. He even had one named after him: Phalaenopsis John Hope Franklin.
Franklin recounted the events of his long life in his autobiography "Mirror to America: The Autobiography of John Hope Franklin," which was published in 2005. To read and hear an interview with Franklin about his book, go to http://www.dukenews.duke.edu/2005/11/jhf_qa.html.
The grandson of a slave, Franklin's work was informed by his first-hand experience with injustices of racism -- not just in Rentiesville, Okla., the small black community where he was born on Jan. 2, 1915, but throughout his life.
Named after John Hope, the former president of Atlanta University, Franklin was the son of Buck Colbert Franklin, one of the first black lawyers in the Oklahoma Indian territory, and Mollie Parker Franklin, a schoolteacher and community leader.
The realities of racism hit Franklin at an early age. He has said he vividly remembers the humiliating experience of being put off the train with his mother because she refused to move to a segregated compartment for a six-mile trip to the next town. He was 6. Later, although an academic star at Booker T. Washington High School and valedictorian of his class, the state would not allow him to study at the state university because he was black.
So instead of the University of Oklahoma, in 1931 Franklin enrolled at Fisk University, a historically black college in Nashville, Tenn., intending to study law.
However, a white history professor, Theodore Currier, caused him to change his mind and he received his bachelor's degree in history in 1935. Currier became a close friend and mentor and when Franklin's money ran out, Currier loaned the young student $500 to attend graduate school at Harvard University, where he received his master's in 1936 and doctorate five years later.
He began his career as an instructor at Fisk in 1936 and taught at St. Augustine's and North Carolina College for Negroes (now North Carolina Central University), both historically black colleges.
In 1945, Alfred A. Knopf approached him about writing a book on African-American history -- originally titled From Slavery to Freedom: A History of American Negroes -- and he spent 13 months writing it.
Then in 1947, he took a post as professor at Howard University, where, in the early 1950s, he traveled from Washington to Thurgood Marshall's law office to help prepare the brief that led to the historic Brown v. Board of Education decision.
In 1956 he became chairman of the all-white history department at Brooklyn College. Despite his position, he had to visit 35 real estate agents before he was able to buy a house for his young family and no New York bank would loan him the money.
Later, while at the University of Chicago, he accompanied the Rev. Martin Luther King Jr. on the march from Selma to Montgomery, Ala. in 1965.
He spent 16 years at the University of Chicago, coming to Duke in 1982. He retired from the history department in 1985, then spent seven years as professor of legal history at the Duke Law School.
Franklin was a prolific writer, with books including The Emancipation Proclamation, The Militant South, The Free Negro in North Carolina, George Washington Williams: A Biography and A Southern Odyssey: Travelers in the Antebellum North. He also has edited many works, including a book about his father called My Life and an Era: The Autobiography of Buck Colbert Franklin, with his son, John Whittington Franklin. Franklin completed his autobiography in 2005, which was reviewed favorably in many media outlets across the country.
He received more than 130 honorary degrees, and served as president of the Phi Beta Kappa Society, the American Studies Association, the Southern Historical Association, the Organization of American Historians and the American Historical Association.
Franklin's best-known accomplishment in his later years was in 1997, when he was appointed chairman of the advisory board for President Clinton's One America: The President's Initiative on Race. The seven-member panel was charged with directing a national conversation on race relations.
When he was named to the post, Franklin remarked, "I am not sure this is an honor. It may be a burden."
The panel did provoke criticism, both from conservatives who pressured the panel to hear from opponents of racial preference and others who said it did not make enough progress. Franklin himself acknowledged in an interview with USA Today in 1997 that the group could not solve the nation's racial problems.
But Franklin said the effort was still worth it.
In 2007, lent his formidable effort to the issue of reparations for African Americans. Franklin returned to Oklahoma to testify in a hearing urging Congress to pass legislation that would clear the way for survivors of the Tulsa Race Riots of 1921, one of the nation's worst race riots, to sue for reparations.
At Duke, Franklin's legacy has been honored in many ways. In 2006 he delivered Duke's commencement address. After celebrating his 90th birthday in January 2005, Duke held a symposium celebrating the 10th anniversary of the John Hope Franklin Collection of African & African American Documentation in the Rare Book, Manuscript, and Special Collections Library at Duke University. The event also marked the publication of his autobiography. A portrait of Franklin was hung in Perkins Library in 1997.
And, in 2001, Duke opened the John Hope Franklin Center for Interdisciplinary and International Studies, (jhfc.duke.edu) where scholars, artists and members of the community have the opportunity to engage in public discourse on a variety of issues, including race, social equity and globalization. At the heart of its mission is the Franklin Humanities Institute, which sponsors public events and hosts the Franklin Seminar, a residential fellowship program for Duke faculty and graduate students.
For Franklin, who continued his scholarly work and public appearances full-bore into his 90s, the work he began in the 1940s still was not finished.
In a statement to the American Academy of Arts and Letters in 2002, Franklin summed up his own career: "More than 60 years ago, I began the task of trying to write a new kind of Southern History. It would be broad in its reach, tolerant in its judgments of Southerners, and comprehensive in its inclusion of everyone who lived in the region. ... the long, tragic history of the continuing black-white conflict compelled me to focus on the struggle that has affected the lives of the vast majority of people in the United States. ... Looking back, I can plead guilty of having provided only a sketch of the work I laid out for myself."