Keeping Faith
In a time of crisis, a new Divinity initiative looks to change ideas of leadership and support church officials
Faculty who teach leadership and management in professional schools often speak one kind of language, those in divinity schools speak another, and few people have ever tried to connect them.
Now, a new program at Duke's Divinity School aims to find out what happens if you bring these two approaches together. The hope is that the Leadership Education at Duke Divinity program will provide church leaders with wisdom, practical information, and a new way of talking about leadership and institutions.
The program will draw on scholars and insights from the arts, medicine, nursing, sociology and political science. It also will include interdisciplinary faculty from around the country who will teach principles of leadership and management that also engage Christian theology, making the lessons applicable to the specific issues faced by clergy and other Christian leaders. (For an overview of the program's public offerings, click here.)
Divinity Dean Greg Jones said the program will be a place where church leaders would get a rare opportunity to meet with scholars from business, law, public policy, medicine, nursing and other fields in workshops, courses and public events. A minister or deacon could learn financial management, a new bishop could get help understanding how to administer a new territory, or -- Jones laughed, drawing on his own experience -- a new divinity dean could figure out how to manage a school.
"When I started to serve a leadership role at Duke, I found there were sources in business that I could read and try to adapt to a divinity school or there were theological sources that could inspire me but really didn't help in terms of the actual work," Jones said. "I wanted to see if we could get these together."
In an interview held in the program's offices at the American Tobacco Campus in downtown Durham, Jones discussed his aims for the new effort.
Q: How did the financial crisis affect your vision for the program?
Jones: We started building the infrastructure in 2008 before the financial crisis. We did it because we thought it was a good idea. It still is, but the world has changed, and what was a good idea is now a more urgent one.
In the aftermath of the crisis, people are more unsettled about how deep the challenges are. It's a question of the viability of the social sector and how to support it in a time of declining endowments and loss of jobs. And yet the deep social needs that we rely on churches and other non-profits to serve are intensifying.
People are asking what is the meaning and purpose of education and other institutions? Why did our institutions fail us? How do we feed people? These are the questions that religious institutions are meant to ask and seek answers to. The creation of this organization has positioned us well to try to be a resource for this. Out of this questioning, we think we can cultivate a conversation that will give new vocabulary and capacities for leaders and will help us imagine new roles for institutions.
Q: Would your program address the financial crisis in a different way from a business program?
Jones: Shortly after the financial crisis, we invited 30 Christian leaders to a two-day conference on the crisis. The first day we heard from people like Campbell Harvey and Tallman Trask, and it turned out that that first day we focused on the brutal facts of the economic situation.
The next day, we talked about what does it mean to lead with hope, drawing on religious sources, which is a very different thing than optimism. We asked, what would it mean to lead an organization hopefully? It's an interesting phenomenon that some of the most significant organizations that we think about were founded during some pretty dark times. Duke Chapel's groundbreaking and construction were during the worst years of the Depression.
There may be something about challenging economic times that encourages you to be hopeful in new ways. It's certainly our obligation to think about how to engage people to think about hopeful leadership, even if the brutal facts are staring us in the face.
Q: What do you tell members of the Duke community about what their churches and organizations should be looking for at this time?
Jones: The worst thing that can happen for churches or other institutions is if we think of this crisis as a time to simply hunker down and survive. If institutions do that, when we come back up from our shelter we'll find the world has changed and we're ill-equipped to deal with it.
It will be a time of pruning in many ways, financially and programmatically. But pruning is a great Biblical image for what you do to allow for a greater flourishing.
Q: How would you like this program to have an impact on Duke University?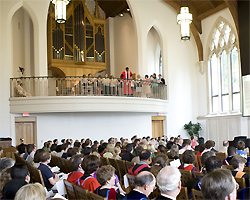 The initiative will offer a variety of programs and workshops that will open church leaders to information that will help them address their own challenges.
Jones: I hope we will have an impact both institutionally and on people in the Duke community. There was a great deal of excitement when I started talking to people in other schools about the program. I had some early conversations with Blair Sheppard (former Duke Corporate Education director and current dean of the Fuqua School of Business). The questions I asked tapped into the larger issues they were talking about at Duke CE -- how to address the larger social sector. The questions I was bringing about leading Christian institutions were ones he thought were important and engaging.
There are people in Duke CE who are involved as trustees of their own organizations or were leaders at their own churches, so this provided them an opportunity to have a different kind of conversation that would be useful to them.
Institutionally, the program also plays well into President Brodhead's larger goal of translating knowledge in the service of society. It's a way of taking some of the best research and communicating it to people in a way they can use it to face some of the deepest problems of contemporary culture.
Finally, I would encourage members of the Duke community to use the Faith and Leadership website. I hope the kind of writing and videos we'll do with Faith and Leadership will be something other leaders, faculty and staff will look to for help with their own teaching and roles. And clearly we need to be learning back from them.