Duke Police Ask for Assistance in Identifying Car Burglars
Thieves caught on surveillance tape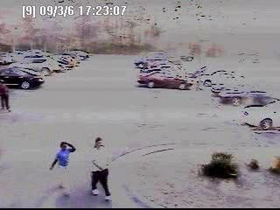 The burglars moved quickly, shattering car windows, snatching computer bags and making off with $9,300 worth of loot in less than two minutes.
What the thieves didn't know is a surveillance camera captured them in the act March 6 in a campus parking lot at the corner of NC 751 and Science Drive. Now the Duke University Police Department is asking the Duke and Durham communities for information leading to arrests in the break-ins.
"We need the community's help in identifying the people in the video," said Duke police Lt. Greg Stotsensburg.
The car break-ins are among 38 cases reported since January of this year, an increase compared to the eight car burglaries during the same time period last year. Stotsenberg encouraged students, faculty and staff to stow personal property out of view in a car.
"If they can see it," he said, "they will take it."
The March 6 incident occurred at 5 p.m. as students and others came and went from the parking lot near the R. David Thomas Executive Conference Center. Police said a man and two women pulled into the parking lot in what might have been a green Mercury Villager with a lower gray panel. They parked and walked between cars before finally targeting a Nissan Murano, Hyundai Sonata and Jeep Grand Cherokee.
"This was broad daylight when everybody's walking through the lot," Stotsenberg said. "There's just a lull in the action, and they hit the cars."
Anyone with information about the car break-ins is asked to call Duke Police at (919) 684-2444, or Durham CrimeStoppers at (919) 683-1200. CrimeStoppers pays cash rewards for information leading to arrests in felony cases. Callers may remain anonymous.