Robert Redford to Receive Duke Environmental Award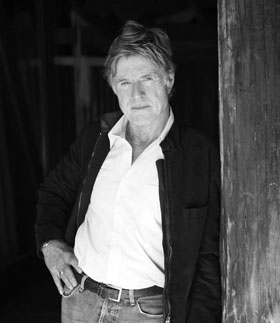 Actor, director and environmentalist Robert Redford will receive the inaugural Duke LEAF Award, for lifetime environmental achievement in the fine arts. The award will be presented to Redford April 18 at Duke University.
Duke's Nicholas School of the Environment established the annual award this year to honor artists whose work inspires environmental awareness and stewardship in others.
Redford was selected by the executive committee of the Nicholas School's Board of Visitors "for his unique and central role as an artist, his moving portrayal of the natural world as an integral character in his films, and his strong and effective environmental advocacy." He will be presented the award in a public ceremony at Page Auditorium during Duke Alumni Reunion Weekend.
"Robert Redford's body of work as an actor, director, producer and founder of the Sundance Institute and Redford Center at the Sundance Preserve highlights the critical but often underappreciated role artists can play in inspiring people to take action for the environment," said William L. Chameides, dean of the Nicholas School. "We are proud to honor him with the inaugural Duke LEAF Award."
Duke President Richard H. Brodhead said, "Robert Redford gained fame as an actor but then used his fame to make major contributions to the social good. He has also been a powerful champion for the environment, and has galvanized public support for this vital issue. Duke is proud to honor him for a lifetime of service to society."
While at Duke, Redford will meet with students and faculty members, and tour environmental research facilities at the Nicholas School.
"I am honored to be in the company of a school which has as its mission to train leaders of consequence for a sustainable future," Redford said. "Duke's Nicholas School of the Environment has a particularly unique creative and innovative bent to it, which makes it all the more meaningful to me."
An award-winning actor, director and producer, Redford has been a strong and steadfast voice on behalf of the environment since the early 1970s. He has used his artistic talent and resources to produce documentary films on topics such as solar power and coal-fired power plants, and has directed such environmentally conscious films as "The Milagro Beanfield War" and "A River Runs Through It."
He has lobbied Congress on behalf of the environment and the arts, advocating for renewable energy, the Clean Air and Clean Water Acts, the preservation of the Arctic National Wildlife Refuge and other wilderness lands, and against global warming.
In 1981, Redford founded the Sundance Institute, a nonprofit organization dedicated to the discovery and development of independent artists and audiences. In addition to the renowned Sundance Film Festival, Redford's Sundance organization in Utah includes the Redford Center, where artists, scientists, policymakers and leaders from all sectors of society work together to explore practical solutions to climate change and other urgent issues. His Sundance Channel airs a block of environmentally themed programming known as "The Green" to cable TV subscribers nationwide.
In 2007, Time magazine named him a "Hero of the Environment" in recognition of his achievements. Two years earlier, he was honored by the Kennedy Center for the Performing Arts for his contribution to American culture.