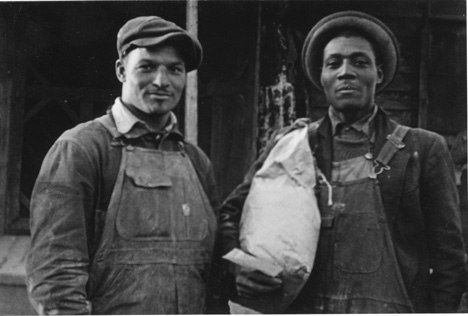 There's new life for those old home movies.
On Saturday, Oct. 18, Duke University Libraries will celebrate worldwide Home Movie Day, an homage to amateur films and filmmaking.
All are invited to share and view their home movies, to learn why they are so special and how to preserve them. Film experts will have equipment ready to project movies in several formats including 8mm, 16mm and Super-8. They will also answer questions about how to care for the film at home.
The event is from 1 to 4 p.m. in Duke's Rare Book Room in Perkins Library.
"Home movies celebrate everyday life and regional cultures, and we must take care of the films to preserve those voices," says Duke's visual materials archivist Karen Glynn, co-host of the event with Kirston Johnson, moving image archivist. The archivists, with the assistance of a volunteer crew from across the Triangle, will inspect and project film, answer questions, provide preservation literature and coach participants on the use of home movie equipment.
There will be two screenings rooms for public projection and a third self-service room set up with home movie viewing equipment for people to review their home movies themselves. The self-service room is a unusual Home Movie Day feature that started at Duke about three years ago. The room has been popular especially with people who inherited film collections but don't have access to proper viewing equipment.
Glynn says from year to year, she can never be sure what kinds of movies people will bring.
"For example, one year we watched a polar bear hunt in Alaska, a sail boat cruise to Havana from the 1950s, and a fox hunt in Virginia on black and white film from the 1930s," says Glynn. "I am enthralled by the ambience created in the dark projection room as strangers watch and comment on and question the celluloid record of other people's lives."
Home Movie Day celebrates the robust nature of film and demonstrates that with proper care and storage, motion picture film can last a long time. Home movies and other amateur films are now listed on the Library of Congress's National Film Registry, including Kannapolis, a part of the H. Lee Waters' Collection at the Rare Book, Manuscript, and Special Collections Library at Duke.
In addition, North Carolina Archives Week begins Oct. 19. Duke, UNC-Chapel Hill and N.C. State University will show home movies and local films from collections at their respective libraries. Duke will host a reception at 5:30 p.m. and start the screening at 6 p.m. on Tuesday, Oct. 21, in the Mary Duke Biddle Rare Book Room in Perkins Library.
Duke will show five films, including "Pilgrimage to Miao Feng Shan" from the recently acquired Sidney D. Gamble Photograph collection, showcasing Gamble's 16mm footage shot on a trip to China between 1924 and 1927.
For more information, contact Karen Glynn at 660-5968, or karen.glynn@duke.edu, or Kirston Johnson at 681-7963, kirston.johnson@duke.edu.