Time Out
Taking a break offers employees many benefits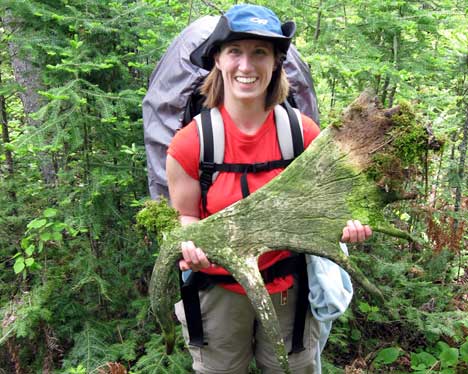 Summer. A time when many people pack their suitcases, pile in a car and head out on vacation. But at Duke, the majority of employees don't take the vacation time they accumulate each year.
Nationally, only 35 percent of workers do not use the vacation time they accrue on the job, according to recent reports from Expedia.com and Harris Interactive. At Duke, that number is more than half.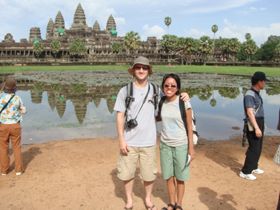 Paul and Joy Tongsri visited Angkor Wat on their honeymoon last year.
Take Paul Tongsri, a residence coordinator for Kilgo Quad. He saved as many vacation days as possible, hardly taking any time off during his first couple years at Duke.
"Initially, I felt bad about leaving work and would worry," he said. "But not now. I don't want work to be my life."
Lois Ann Green, director of Duke Benefits, said the reasons many employees don't take all their vacation time each year vary, including saving time to take a longer vacation down the road. But mental health experts suggest that vacations are essential to work-life balance and overall health.
When Tongsri got married, his priorities changed, and he decided to create more balance in his life. He took advantage of his vacation days to spend time with his wife, Joy. "Since I got married, I got better about taking time off," he said. Last year, he took six weeks off for his honeymoon in the Asia-Pacific.
Tongsri is not alone in his view of the importance of time off. According to a 2006 "Rewards of Work Study" by Sibson Consulting, time off ranks at the top when it comes to employee satisfaction -- above cash bonuses, annual pay increases and future career advancement.
Green said that Duke's robust vacation benefit could be another reason why many employees don't take all their vacation time each year.
"Our vacation benefit is very competitive," Green said. "At Duke, employees accrue more vacation time, sick leave and holidays each year than many comparable employers."
The average annual vacation earned nationally is 14 days, compared to Duke's average of 16.1 days. Duke staff can accrue up to 20 vacation days each year after meeting the eligibility criteria. Those days roll over from year to year, but the total number of vacation days a staff member can accumulate maxes out at double their yearly vacation accrual. For example, if a Duke staff member receives 15 days of vacation per year, the maximum number of vacation days they can accrue is 30. Combined with 13 holidays and 12 sick days a year, some employees may not feel the need to use all their time off.
That's true for Carl and Jemma Boler, who have each worked at Duke for more than 20 years. Although they regularly take time off for vacations, family gatherings and holidays, they each sometimes have up to eight weeks of vacation available.
"I watch my accrual rate and take a day off every now and then when I have accrued my maximum," said Jemma Boler, a recruiter in human resources.
All Work, No Play
Not taking time off to relax, rejuvenate and reenergize can have negative consequences, said Andy Silberman, assistant professor, and director of Duke's Personal Assistance Service, a free counseling service for Duke faculty and staff.
"Studies have shown a link between the benefits of taking time off and better health and productivity," he said. "Ironically, work addicts usually think they're accomplishing more by laboring away, but they usually end up doing more harm than good. All work and no play can lead to a range of mental, physical and emotional problems that can lead to burnout and reduced productivity."
Those who are overworked and overstressed are more likely to become dissatisfied with their work and life, Silberman said. They're also more likely to become depressed and more susceptible to infections and disease. Their personal relationships may also suffer. Silberman said about one in three clients of Personal Assistance Service has concerns that are at least in part due to stress and work-life balance issues.
"If you find it more difficult than usual to feel good about what's happening in your life and at work, it's a sign that you're under stress," Silberman said. "If you are more irritable and frustrated than usual, take note because it could mean that your batteries are drained. During those times, it may feel very difficult to unwind and take time off, but those are the times you most need a break -- even if it's just one day."
Taking time off is not a problem for Maria Maschauer, visitors and special events coordinator for Duke's Program in Literature. Since last summer, she's taken four vacations -- all scientific expeditions with organizations including the Sierra Club, Earthwatch and Duke's Organization for Tropical Studies.
"I've searched for moose bones in Michigan's northern wilderness, studied leaf cutter ants in the Costa Rican rainforest, and located wildlife trails in Idaho's mountainous terrain," she said. "I feel ecstatic on the trips."
Maschauer said her job makes her wild adventures possible, and she's careful about timing her trips so her office has sufficient coverage, and so she doesn't run out of vacation days.
"I'm still pumped up when I get back and have a desire to keep learning and exploring."