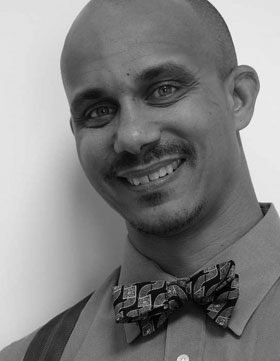 Lee D. Baker, associate professor of cultural anthropology and African and African American studies at Duke University, has been named dean of academic affairs of Trinity College, Dean of the Faculty of Arts & Sciences George L. McLendon announced Monday.
Trinity College is Duke's liberal arts undergraduate college, and more than 80 percent of Duke undergraduates are enrolled in it. The remaining undergraduates are enrolled in the Pratt School of Engineering.
Baker, the former chair of the Arts & Sciences Council and current director of the Duke in Ghana program, assumes the duties of Robert J. Thompson Jr., dean of Trinity College since 1999. Thompson, who holds appointments in the Departments of Psychology and Neuroscience, Psychiatry and Behavioral Sciences, and Pediatrics, announced last October that he was returning to teaching.
In announcing the appointment, McLendon said, "Lee Baker is a noted scholar, an award-winning teacher, and a proven leader as chair of the Arts & Sciences Council. He brings both thoughtful deliberation and enormous energy to this new role. We are confident that he will carry on the outstanding leadership provided by Bob Thompson in shaping curricular innovation, promoting faculty-mentored undergraduate research and enhancing our undergraduate advising system."
Alvin L. Crumbliss, the chair of the search committee for the post, said Baker "brings a unique combination of talent and experience to this important position. He has an intimate knowledge of the workings of Trinity College from his years on the faculty and his extensive service. He is very sensitive to student issues and brings an energy and vision to this position so that we may continue in its positive development. Lee is also an accomplished scholar and a wonderful example for our undergraduates. I am confident that he will lead us well in our current initiatives and on to new ones."
In an e-mail from Ghana, Baker wrote: "I look forward to building on the successes of the past and creating new opportunities for the future. This is an exciting opportunity and an awesome responsibility. I look forward to enhancing our excellence in instruction, our innovative programs, and our undergraduate research. I am committed to setting high academic and ethical standards, maintaining diverse learning experiences, and ensuring that every student has the opportunity and possibility of reaching the highest level of academic achievement.
"I bring a passion for teaching, experience in faculty governance, and a steadfast commitment to liberal education that trains our students in critical thinking, persuasive writing, quantitative analysis and analytical reasoning -- - the tools they will deploy as they create change in the increasingly diverse, complex, global and information-saturated world in which we live."
A graduate of Portland State University (BS, 1989) and Temple University (Ph.D., 1994), Baker came to Duke in 1995 as an assistant professor of cultural anthropology. From 1997 to 2000, he taught at Columbia University, and returned to Duke in 2000. He was the 2007 recipient of the Richard K. Lublin Distinguished Award for Teaching Excellence.
Baker has a certificate in Africana Studies from the University of Ghana-Legon. He received a National Humanities Center Fellowship in 2003, a John Hope Franklin Institute Fellowship in 2001, and a Ford Foundation Postdoctoral Fellowship in 1998. Baker's research explores the history of anthropology and its role regarding race and culture in the United States. He is the author of "From Savage to Negro: Anthropology and the Construction of Race, 1896-1954" (University of California Press, 1998) and editor of "Life in America: Identity in Everyday Experience" (Blackwell Publishing, 2003).
Baker chaired the Arts & Sciences Council from 2005 to 2007, and has served on the DukeEngage Steering Committee, the Athletics Council Review Committee, and the Provost's Standing Committee on Diversity.