Michael Schoenfeld to Lead Public Affairs and Government Relations
Schoenfeld, currently the vice chancellor for public affairs at Vanderbilt University, joins Duke on July 1.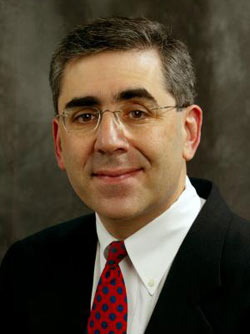 Michael J. Schoenfeld, the vice chancellor for public affairs at Vanderbilt University in Nashville, Tenn., will become Duke University's vice president for public affairs and government relations on July 1, Duke President Richard H. Brodhead announced Monday.
Schoenfeld, who graduated from Duke in 1984, will serve on Brodhead's senior leadership team and become the university's chief communications strategist, advancing and managing public affairs and government relations programs in support of Duke's mission.
He was selected following a nationwide search by a 12-member committee of faculty, trustees, administrators and alumni that was led by L. Gregory Jones, dean of Duke Divinity School. Schoenfeld will succeed John F. Burness, who announced in October his plans to retire on June 30 after leading Duke's public affairs and government relations programs since 1991.
"Mike Schoenfeld brings an extraordinary breadth of experience to this critical position," Brodhead said. "He understands how universities work and has developed one of the most effective communications programs in all of higher education. His innovations extend from the use of webcasts and other online tools to new ways of reaching out to international audiences. His colleagues at Vanderbilt and elsewhere praise his good humor and ability to bring people together, and his intelligence and strategic sense are immediately obvious.
"We are so pleased to welcome Mike and his family back to Duke, and are grateful to the search committee for their service."
Schoenfeld, 45, currently serves as the chief public, community and government relations officer and spokesman for Vanderbilt. Reporting directly to the chancellor and serving as one of the university's six senior officers, he has broad responsibility for Vanderbilt's local, regional and national external affairs, government and community relations, publications and websites, and special events. He also teaches a graduate course on crisis management in higher education.
"I am honored and more than a little humbled to have the opportunity to contribute to the success of the most dynamic and exciting university in the country," Schoenfeld said. "President Brodhead and his team have drawn a compelling vision for the future, one in which effective communications, outreach and advocacy are critical. Duke changes lives, and I can't wait to tell those stories."
Schoenfeld became Vanderbilt's first vice chancellor for media relations in 1997. Under his leadership, the university has greatly expanded its media operations and received numerous public affairs honors from the Council for the Advancement and Support of Education (CASE) and other organizations, including five regional Emmy awards in January for its television productions. Vanderbilt's online news network provides extensive audio and video programming, podcasts and interactive features, and has formed partnerships with organizations ranging from YouTube to Nashville Public Television.
As chief government relations officer and lobbyist, Schoenfeld has led Vanderbilt's legislative agenda at the local, state and federal levels on issues that include research funding, higher education policy and health care. He has been widely credited with rebuilding Vanderbilt's relationship with the Nashville community, and has played a key role in education, economic development and the arts. He currently serves as president of the boards of the University School of Nashville and the Tennessee Repertory Theater, and on the boards of the Center for Nonprofit Management, WPLN-Nashville Public Radio, the Nashville Public Library, the Nashville Alliance for Public Education and other organizations. The Nashville Area Chamber of Commerce honored him twice with its Volunteer of the Year Award.
Nationally, Schoenfeld's many activities include several years of service on Duke Magazine's Editorial Advisory Board. He also holds leadership roles with the National Academy for Media Arts and Sciences, the Public Relations Society of America and the Association of American Universities, and previously served on the board of the National Association of College and University Business Officers and the CASE Commission on Communications. He will serve as general chairman of the 2009 CASE Senior Summit, the largest annual gathering of educational advancement leaders.
Prior to joining Vanderbilt, Schoenfeld was senior vice president for policy and public affairs at the Corporation for Public Broadcasting (CPB) in Washington, D.C., where he served as the chief spokesman and senior corporate officer for media relations, community relations, research and public policy. As the leader of CPB's Internet and technology initiatives, he helped develop one of the first public telecommunications websites and negotiated a partnership with the MIT Media Lab.
Previously, Schoenfeld served as the director of program development at Worldnet, the United States Information Agency's global satellite television network, and as chief of staff for the director of the Voice of America, where he also held a variety of executive and news reporting positions.
Schoenfeld earned a master's degree in public policy from the Harriman School at the State University of New York at Stony Brook. He and his wife Elizabeth, the director of the Vanderbilt Programs for Talented Youth, met while both were undergraduates at Duke. They have one daughter, Abby.