Gardening in a Drought
Duke Gardens experts discuss gardening with less water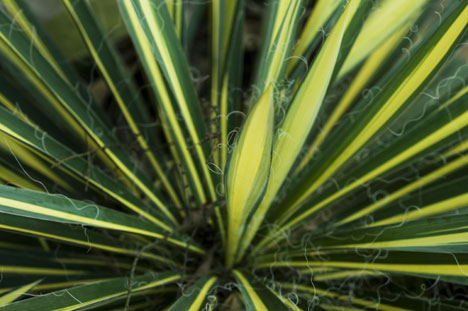 Recent heat and drought have created numerous challenges for gardeners in Durham. Since last summer, gardeners have watched as leaves curled and burned. Even when the weather cooled, there still was not enough rain, forcing many plants to return to seed.
"It wasn't only that we didn't have the rain," says Greg Nace, director of horticulture at the Sarah P. Duke Gardens. "There's stress on the plant because of heat, high temperatures and wind. All these elements made the situation much more critical."
By late winter, the flower beds were empty. The pond levels were low and the remaining water, murky. Many of the native magnolia trees, ubiquitous in the South, perished.
Indeed, the losses to the gardens have been serious, although not permanent. The drought is a wake-up call to many, a reminder that water is precious.
"Here in the Triangle, we have a growing population of people. -- We are heavy consumers of water and we take the water for granted," says William LeFevre, executive director of the Gardens.
With more than 300,000 visitors each year, the Gardens cover some 55 acres and provide a beautiful setting for renewal and solitude. Walks and pathways wind throughout, leading to private areas for study, reflection and inspiration. Nationally renowned for its landscape design and horticulture, the Duke Gardens is more than just a pretty place. Its mission is to foster an appreciation of plant life and to educate visitors about nature and conservation.
In recent months, Duke's horticulturalists have embraced that mission by developing a sustainable, ecologically-based plan that responds to the ongoing drought. They've also allocated money in next year's budget to pay for innovative watering solutions and to replace lost plants and trees.
With Durham's Stage IV water restrictions this winter, the Gardens' horticulturalists have turned off all sprinklers, irrigation systems and fountains. They carry bucketfuls of water from the ponds to hand-water roses and other plants essential to their collections.
Instead of planting water-needy plants such as snapdragons, Nace says, Duke's horticulturalists are preparing to plant drought-tolerant, flowering an-nuals. Water from the ponds will sustain some new plantings. Others will draw water from a 20,000-gallon cistern, an underground container that collects runoff water.
A sustainability committee formed during the drought has suggested burying more cisterns in the garden and using drip irrigation to efficiently direct water to the roots. The committee is also considering how the Gardens can recapture and reuse the water being lost in storm drains.
"We can achieve landscape in different ways that don't involve using a John Deere tractor," says Alice Le Duc, director of education at the Gardens.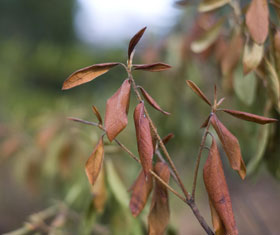 Rhododendrons and other Duke Gardens plants are feeling the effects of the drought. Photo: Megan Morr
The Gardens' response to the drought also can be seen in its lawns. "The lawn is one of the least sustainable elements because of water, fertilizer and the energy it takes to mow it," LeFevre says. "If you don't water the lawn, it acclimates and doesn't require as much water. When drought comes, the lawn is prepared."
As the head of the sustainability committee, LeFevre says, "We're looking at ways to minimize the amount of city water used. Even if the rain comes hard and this current drought emergency is lifted, we should never let up. We should continue to look at ways to recapture water."
Though recent rains have moistened the top 3-4 inches of soil, Le Duc says deep down, North Carolina's clay soil is probably still powder dry.
"We need multiple light soaking rains that can penetrate slowly into the ground" to completely recover from the drought, she says.
With the drought persisting, water usage must be considered along with any trend toward planting native species, Le Duc says. This month, on March 27, the Gardens will hold a class discussing the use of native plant species with guest lecturer Cole Burrell of the University of Virginia.
Le Duc says visitors will learn they don't have to sacrifice beauty for drought-tolerant plants, which can include more than cactuses and succulents. Many drought-tolerant plants have colorful blooms.
Through such classes, as well as its own recent actions, the Gardens is encouraging local residents to look for new ways to maintain their own gardens with less water. Nancy Goodwin of Hillsborough, for one, says she doesn't expect the climate to change, so has been changing what she plants at home.
"I don't believe in watering. I made a garden that can sustain itself without watering," Goodwin says. "There are plants we can grow. We don't have to pressure (the city) into giving us more water for our gardens. We're not going to be doom and gloom. We can still enjoy our gardens, we just have to plant the right plants."
Duke Gardens will present a talk on "Native Plants and Ecological Design: Myths and Realities" at 7 p.m. Thursday, March 27, at the Doris Duke Center in Duke Gardens. Tickets are $10 for Friends of Duke Gardens and $15 for the public. For more information, call 684-3698.