For Halloween, Spooky Tales from Duke
Things that go bump in the night on campus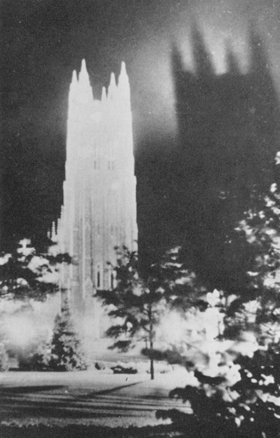 The spirit of Halloween is alive at Duke.
There's the Memorial Chapel that serves as the permanent resting place for members of the Duke family. There's the mysterious tombstone found on campus. And there are those spectacular and sometimes spooky stone gargoyles inspired by Gothic architecture, peering year-round from their perches atop buildings.
What would Halloween at Duke be without a few historical tales?
***
Price's Ghost Stories
It wouldn't be Halloween at Duke if Reynolds Price didn't tell ghost stories. The annual tradition will be repeated this year at 7 p.m., Oct. 31, in the Thomas Room in Lilly Library on East Campus. Come early -- the event usually is standing-room-only.
Mollie Keel, coordinator of Chapel events, recalls a time several years ago when a visitor with a digital camera asked, "Did you know there are ghosts in the Chapel?"
She chuckled.
The visitor showed her the picture of the altar in the downstairs Chapel crypt, where former Duke presidents, including William Preston Few, Duke's first president, and Nanaline Duke, wife of Duke's founder and benefactor, James B. Duke, are buried.
Off to the left of the photograph was a white blur, a reflection.
"He said not to worry, that we had good ghosts down here," Keel said.
After James B. Duke died in 1925, his friend, James A. Thomas, organized a drive to fund projects in memory of Duke and his family. One project was to add a memorial chapel and crypt to the plans for the Chapel, which opened in 1932.
Between the Memorial Chapel and the chancel, a flight of steps descends to the crypt, constructed in Romanesque style with rounded arches and space in the floor for 20 bodies.
Above the crypt and behind iron gates in the Chapel is the Memorial Chapel, where the gleaming white marble coffins, known as sarcophagi, of James B. Duke; his father, Washington Duke; and brother Benjamin Duke, have rested since 1935 when their bodies were moved from the mausoleum at Maplewood Cemetery in Durham to the Chapel.
A story appeared in the Boston Evening Transcript in 1935, describing the three sarcophagi carved from 33 tons of Italian marble by sculptor Charles Keck in Cambridge, Mass. At the time, the project cost $55,000, and the sarcophagi, weighing 20 tons, were brought to Durham on three trucks.
"It's really an honor to the Duke family, and Duke family philanthropy," said Tom Harkins, associate university archivist. "There aren't too many universities in the country today that have as close a connection with the founding family as we do."
***
Kim Sims, technical services archivist for University Archives, keeps a piece of history on her desk.
It's a 26-inch tall tombstone for Emily Johnson, who died in 1895. The headstone was found on campus in the late 1960s to early 1970s. Despite attempts to find its home, no one knows where the tombstone originated, and nothing about Johnson, who is described on it as "mother."
"What I do want to do is to contact the folks at the Duke Forest office to see if they have a record of a cemetery location from the same time period with the same surname," Sims said. "I also would like to look through the 1890 census records for Durham County."
Paperwork in the University Archives file about the tombstone said that according to oral tradition, the headstone was discovered at the construction site of an addition to the Divinity School building begun in 1970. "This would mean, one assumes, that it marked a family grave in the woods near the center of campus and was untouched by construction and -- traffic from 1927 to when the divinity addition was begun," according to the file.
The tombstone found its way to the Divinity School Library, where former head librarian Donn Michael Farris kept it until his retirement in 1992. In 1993, the tombstone was transferred to University Archives.
"I'm glad it's in our custody and not discarded by whoever was initially responsible for removing it in the first place," Sims said. "It boils down to respect for the dead and reverence for burial grounds.
I know that as long as it is with University Archives, it will be safe until its proper place can be determined, if ever."
***
Perched atop a clock tower in Crowell Quad overlooking West Campus is a stone mythical animal. From another vantage point, a beast with a demonic-looking face peers down with wide eyes and extended tongue.
More than a dozen eerie gargoyles were crafted by stonecutters in the late 1920s and early 1930s to add architectural elements.
"Since gargoyles are usually associated with scary movies, some people might consider them spooky or scary, but I prefer to think that they are there to ward off evil," said Theresa Aiken, staff assistant with Residence Life.
The gargoyles, along with other decorative carvings on West Campus, were crafted by stonecutters for John Donnelly Inc. of New York, a design firm that constructed public buildings across the country, including the Supreme Court in Washington, D.C.
Ray Walker, staff architect for the Facilities Management Department, said that in architecture, a gargoyle is defined as a carving of a grotesque figure that operates as a waterspout to convey rain water away from the sides of buildings.
"The stone cutters were given quite a bit of free rein to explore their creativity, so many of the images are products of the artists' imaginations," Walker said. "Since these statues don't act as waterspouts, they aren't gargoyles by definition. Most people agree, though, that they possess all the other gargoyle qualities such as the scary appearance."
The ghoulish statues and carvings have been the subject of books, research papers and fodder for visitors' questions.
"There are surprises to be found among the stone carvings on campus," said Tom Harkins, associate university archivist. "I think it all adds an artistic flair, and for some, a bit of mystery."