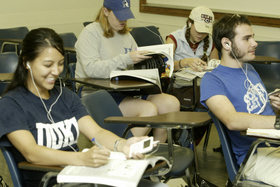 Internet users around the world can now download, for free, lectures, music, news segments and other materials from Duke University via the Duke on iTunes U site.
The site can be entered from http://itunes.duke.edu.
Examples of material on the site include an address by former U.N. Ambassador Andrew Young on Martin Luther King Jr.'s legacy, reflections on leadership by Duke men's basketball coach Mike Krzyzewski, short news videos on the latest scientific findings at Duke and jazz-classical music by student band The Pulsar Triyo.
The Duke on iTunes U site is a gallery of lectures, music, news and other materials that can be easily downloaded transfered using Apple's iTunes software. Enter the site.
"Conversations and creative work are an important part of the vibrant intellectual life here on campus, and that's what you're seeing on this site," said Provost Peter Lange, the university's top academic officer. "Making these materials public in a format that's convenient for curious but busy people is a way for Duke to put the knowledge generated here in service to a wider audience."
Duke on iTunes U results from collaboration between Duke and Apple. For the site, Duke is providing audio and video recordings of speeches, performances, research updates, student-produced movies and more. Apple developed the site's infrastructure as part of its iTunes U initiative. On Wednesday, Apple launched the iTunes U section of its iTunes store with materials from Duke and 15 other universities.
Materials on Duke on iTunes U (click to go directly to the item):
* a speech by General Anthony Zinni on the war in Iraq;
* a report on research showing why customers will sometimes select a less valuable product;
* a series of radio dramas produced by students in a theater studies class;
* a lecture by the chief rabbi of Great Britain on "The Dignity of Difference;" and
* a talk by New York Times sports columnist William C. Rhoden called "$40 Million Slaves."
Users of Duke's site utilize Apple's iTunes software to find material either by browsing by topic or searching with keywords. Audio and video files downloaded from the site can be played on the user's computer or transferred to an iPod or other compatible digital player. The iTunes software can downloaded for free from Apple's website.
Julian Lombardi, assistant vice president for academic services and technology support at Duke, said Duke's iTunes site highlights how technology can amplify the work already being done at the university.
"This new infrastructure allows us to capture and distribute materials to people who want to participate in the life of the university but can't necessarily be on campus," Lombardi said. "It packages some of the thinking here and literally puts it in the palm of your hand."
The executive director of Duke's Alumni Affairs, Sterly Wilder, said Duke's site can be a helpful resource for alumni and others who want continue learning at a university level after leaving college.
"When you're a student, there are only so many courses you can take and talks you can attend. This site lets you listen to lectures and keep up with the latest research findings long after you graduate," Wilder said. "It's one more way to stay engaged with and connected to Duke."