Awake for the Midnight Train
Inside Duke's Steam Plant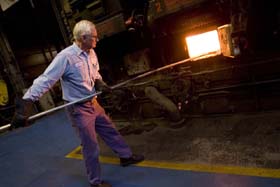 Just after midnight, Gary Sims felt the familiar vibration in the control room of Duke's steam plant as rail cars rolled along the tracks toward the plant's receiving area.
"That means the coal's here," said Sims, who has worked at the steam plant 18 years. "I can feel the building shake when the rail cars get here."
The rumbling grew louder as a blue locomotive, affectionately referred to by employees as "the little engine that could," pushed the rail cars, each packed with 90 tons of West Virginia coal, into a three-bay garage and over open grates in the floor.
Frank Warren, steam plant mechanic, grabbed a giant crowbar and inserted it into the bottom of a rail car. He pushed, opening the car's frozen bottom doors. Chunks of coal poured out and through the floor grates, bound for conveyers that feed the steam plant's three coal-fired boilers.
Year round, employees in Duke's Facilities Management Department (FMD) unload thousands of tons of coal, the fuel that produces steam to heat Duke's buildings, sterilize the hospital's surgical equipment and maintain proper humidity for art work and lab research. Day and night, control room operators monitor and feed the infernos raging inside the boilers to ensure clean steam flows through 13 miles of underground pipe.
"Most people don't realize what we do," said Dennis Kennedy, steam utilities manager. "It's a behind-the-scenes operation, but it's so critical to the success of the university."
Nestled in the center of campus near Research Drive, the steam plant, built in 1929, is a 24-hour operation, producing 1.3 billion pounds of steam a year, enough to heat about 5,000 homes in Durham. On any given day, a black mountain -- 4,000 to 6,000 tons of reserve coal -- rises from the plant's yard off Coal Pile Drive.
Did You Know?
• The coal travels by rail from Kentucky and West Virginia to an area near the Searle Center. A locomotive, driven by hospital employees, pushes the rail cars -- up to six cars a night -- to the steam plant off Coal Pile Drive. Just after midnight, a section of the monorail that links Duke South Clinics and Duke North Hospital is raised, allowing the locomotive to travel to the plant.
• Approximately 85 percent of the water used to generate steam returns to the plant for reuse.
• Coal is less expensive than natural gas and oil. If gas was used as a primary fuel, the steam plant would require a major capital investment and significant increase in operating expenses.
• Steam plant operators are licensed by the National Institute for the Uniform Licensing of Power Engineers.
In addition to Duke, other universities such as Clemson, Virginia Tech, University of Virginia and the University of North Carolina at Chapel Hill operate coal plants.
Inside Duke's plant, boilers pump steam every day, except for a one-time shutdown in August for scheduled maintenance by mechanics who pack and repair valves and fix underground pipes. During this maintenance, which takes a year to plan and coordinate, surgeries at the hospital are curtailed because steam is not available for sterilization.
"The medical center depends on the steam," Kennedy said. "We have to supply steam 24 hours a day, seven days a week, 364-and-a-half days a year. There really is no room for error."
That's where FMD employees like David Long come in.
On a January day, Long sat in the control room on the plant's main operating floor. Computer screens flashed numbers and symbols in yellow, red and green hues. The computers are part of a state-of-the-art fiber optic network that monitors 2,000 points in the steam plant. And operators like Long ensure the numbers on gauges stay within acceptable ranges.
During his 12-hour shift, Long kept watch over the three coal boilers. The plant has three more boilers, for gas, oil and recycled fuel oil. They were not running because of unseasonably warm weather. On this 65-degree January day, 150,000 pounds of steam left the plant per hour, enough to heat 4,000 homes; on Feb. 6, when temperatures dropped in the teens, the plant produced a record of 336,000 pounds of steam per hour.
"I have to watch all my numbers, my temperatures, pressures and steam flows," said Long, an 18-year steam plant employee. "You've got so many things happening at one time. It's real challenging. You've got to be aware of what you're doing at all times."
Every six hours, Long left the control room and walked several yards to a bank of coal furnaces to "dump fires," which clears the ash from each of the boiler's four burning sections. As he walked, the cranking sound of feeders sprinkling coal into the boilers reverberated through the plant.
"If that squeaking stops, you'll see three or four people running in different directions," said Kennedy, the steam utilities manager. "It's music to their ears."
Long grabbed a 15-foot-long rake and opened the door to a boiler. A row of gray ash blanketed one of the boiler's sections. In the other sections roared a 1,800-degree blaze with blinding flames that licked up the furnace.
"Nice clean fire," said Long, as he pushed the rake with gloved hands, sweeping ash down the furnace grates. He turned a few dials, and fresh black coal rained from a feeder, taking the place of the ash. A moment later, that section burned again, and the cycle repeated over and over.
Downstairs, steam plant fireman Garry Mitchell waited for a light above his head to flicker five times. When it flashed, he opened an ash door and sent the ash to silos, where it is collected and used again in concrete blocks, walking trails and road beds.
Recycling ash is not the only measure Duke is taking to protect the environment.
Each boiler has a "baghouse" with 820 filters that collect particles before they can be released through the smokestacks. Kennedy said the devices filter 99.7 percent of soot and ash. In addition, Duke is spending $4.5 million to add "lime scrubbers" to the system that will remove gases and heavy metals. These improvements keep the plant in or ahead of environmental compliance requirements.
"Duke has been very proactive when it comes to environmental issues," Kennedy said. "There's so much that goes on here to make the plant work efficiently. We have a responsibility not only to serve the university and health system but also to be responsible stewards of our environment."
That philosophy makes Paul Schuler proud to be among the FMD steam plant employees who bring at least 200 years of experience to the plant's daily operation and maintenance.
Said Schuler, "We're a good team."
Steam Plant by the Numbers
54,000: Tons of coal burned annually
13: Miles of underground steam pipe
1,800-degrees: Fahrenheit temperature at the center of a boiler coal fire
2: Number of 100-ton roof bunkers that feed coal to boilers
3: Tons of coal burned an hour in each boiler
250: University and health system buildings served
8,000: Tons of ash recycled annually
23: Employees who operate and maintain the plant