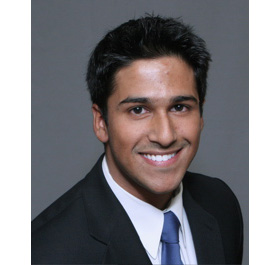 Jimmy Soni, a Duke University senior, is one of 12 Americans awarded a prestigious Mitchell Scholarship this week for a year of graduate study in Ireland.
 Soni, 21, of Westmont, Ill., plans to attend University College Cork for a master's degree in politics.
 "I hope to write a dissertation on juvenile justice practices in Ireland," Soni said. "Ireland has made some remarkable achievements in juvenile justice in the last 10 to 15 years."
 Soni said the graduate program in which he is enrolling "is one-third government, one-third philosophy and one-third history, which builds on my self-designed interdisciplinary major here at Duke."
 Soni, who attended Duke as a University Scholar, created a major focusing on ethics. "I've done my work at the intersection of ethics and politics. I am interested in the moral challenges that face leaders as they make decisions, and what it means to be civically engaged."
 The George J. Mitchell Scholarships are awarded annually to a dozen Americans under the age of 30 who exhibit the highest standards of academic excellence, leadership and community service. The awards, which can be used to pursue a year of post-graduate study at any university in Ireland, are named after the former U.S. Senate majority leader who spearheaded the historic Good Friday Agreement of 1998 that produced peace in Northern Ireland. The program seeks to link future American leaders with Ireland.
 Soni credited his success to his professors at Duke who mentored him and "really took an interest in my academic and extracurricular development."
 "I have been graced beyond measure with support from faculty, friends and a host of institutions, like Duke's Hart Leadership Program and Kenan Institute for Ethics," Soni said. "This is a testament to the time and energy that those people have put in." Soni said he is particularly indebted to public policy professors Bruce Jentleson and Bruce Payne, University Scholars Program director Victoria Lodewick, political science professor Peter Euben and Judith Ruderman, vice provost for academic and administrative services.
"I am really excited about this opportunity," Soni said. "The class of people I am going with are unbelievable folks who have all done interesting things, and I am looking forward to getting to know them."
While at Duke, Soni helped create the Duke Political Union to provide outlets for diverse political views on campus, chaired the Honor Council, co-chaired the undergraduate judicial board, volunteered in Durham Public Schools and wrote columns for the Chronicle, the student-run newspaper, for which he received the Newhouse Prize from the Asian American Journalists Association. He now serves as vice president for academic affairs for Duke Student Government.
His summer experiences include an internship on Capitol Hill with New Jersey Rep. Frank Pallone Jr., a trip to India during which he was able to meet with political leaders, and legal aid work in Tanzania. He also won a fellowship at the Center for Study of Presidency in Washington, D.C., and a Galbraith Scholarship to study last summer at Harvard's Kennedy School of Government.
As a research assistant for Jentleson, Soni interviewed former U.S. Ambassador to the Soviet Union Jack Matlock and other influential political leaders for a book chapter on former Soviet leader Mikhail Gorbachev.
Jentleson praised Soni's drive, leadership ability and public spirit. "He is both academically strong and intellectually alive. He is a leader now and will be one in the future," Jentleson said.
Soni plans to defer a job offer from the McKinsey and Company consulting firm in Chicago to accept the Mitchell Scholarship, and anticipates attending law school in the future.