Saving Energy Costs for Durham Families
Students work to get energy-efficient light bulbs to local families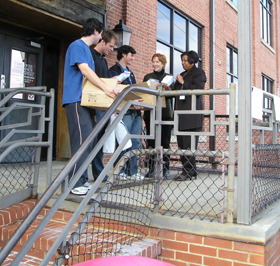 Duke students have joined the cause of reducing home energy use in Durham through a new "Share the Light" program. Three Duke seniors -- Billy Kennedy, Josh Posen, and Drew Tignanelli -- earlier this week delivered packages of energy-saving lightbulbs to the Durham County Department of Social Services for free distribution to their clients.
The three students worked as a team as part of a community leadership course at Duke taught by Tony Brown that links students with community projects. The students connected with Clean Energy Durham and helped develop its new "Share the Light" project for distributing free energy-saving compact fluorescent lightbulbs to Durham households with limited incomes. About 70 families have received lightbulbs so far.
Clean Energy Durham is a non-profit volunteer organization that promotes energy conservation and the use of renewable energy throughout Durham County. Share the Light is Clean Energy Durham's newest program. It collects tax-deductible donations from individuals and groups throughout Durham and buys and distributes compact fluorescent lightbulbs. Many households cannot afford the extra money for buying these bulbs, which typically cost about $2 more per bulb. The bulbs reduce electricity use by 75% however, and last over five times as long as regular bulbs, so they typically pay for themselves within a few months.
"We helped Clean Energy Durham figure out how to get feedback from bulb recipients and also from social workers who are distributing the bulbs," Tignanelli explained. "This will help Clean Energy Durham adjust the distribution system if necessary to make it more effective."
Clean Energy Durham's motivation in distributing the bulbs is to reduce the greenhouse gases that cause global warming and climate change. "The US Environmental Protection Agency says that if every American replaced five lightbulbs with compact fluorescents, it would save the equivalent of 20 power plants," stated Clean Energy Durham volunteer Judy Kincaid. "We want every household in Durham to be able to switch to compact fluorescents," she added.