The Women's Initiative
Much accomplished after three years, but work continues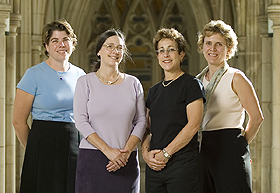 Slightly more than three years ago, Michael Holt would not have been able to take three weeks paid leave after the birth of his son.
Gwen Rogers would not have access to an annual $5,000 for tuition.
And Shirley McCauley probably would not have had the opportunity to sit down with colleagues to discuss respect in the workplace.
While each of these three employees have different roles at Duke, they share a common bond – they've benefited from recommendations in the 2003 report on the Women's Initiative, a comprehensive set of findings about the climate for women at Duke.
Highlights of Women's Initiative Outcomes
Work-Life Balance
On-site Duke Children's Campus expanded, doubling capacity for children
Grants to 29 off-site child care centers enable parents who work at Duke to receive priority status for slots
Child care subsidies for graduate students
Three weeks paid parental leave for staff
Guidelines for flexible work options established
Mentoring and Professional Development
Annual $5,000 tuition reimbursement for faculty and staff
Quarterly mentoring event
"A Guide To Managing at Duke" training program in university and health system
New pay and performance appraisal sets goals and evaluates behavior
Baldwin Scholars program for undergraduate women aims to support and inspire leaders
Gender and Diversity
Faculty Diversity Standing Committee
At least $1-million per year to enhance strategic hiring of women and minority faculty
Newly created position of Associate Dean for Women in Medicine and Science at the School of Medicine to increase visibility of women's issues
Respect and Communication
Office for Institutional Equity develops workshop, "Enhancing Respect in a Diverse Workplace"
Enrollment process for same-sex partner equivalent benefits streamlined so it more closely mirrors married couples
Safety and Security
Enhanced security in hospital emergency room and psychiatric area
Domestic violence protocol
Installation of at least 139 light poles and upgrades to at least 85 emergency phones
Outreach position added to Sexual Assault Support Services.
Developed by a steering committee chaired by former Duke University President Nannerl O. Keohane, the study pointed Duke in new directions. Most of the recommendations that focused on employee benefits, training, faculty recruitment and student services have been implemented, but the momentum continues under President Richard H. Brodhead, who became Duke's ninth president in 2004.
"Three years after the Women's Initiative report was made public, much has been accomplished at Duke, but the issues are ongoing and demand our continuing attention and care," Brodhead said. "I think there is an ongoing need to have dialogue with the president to address issues related to women at Duke."
This fall, the work of the Women's Initiative will evolve as Brodhead convenes and chairs an advisory group that will facilitate conversations about gender issues as they relate to women at Duke. This cross-section of faculty, staff, students and alumnae will succeed the President's Commission on the Status of Women, which was charged in 2003 with overseeing and implementing recommendations in the initial report.
"This has been an amazing, amazing experience, and many of the goals have been accomplished, but the work is ongoing," said Donna Lisker, the Duke Women's Center director who chaired the commission and will serve on Brodhead's advisory group. "On the faculty side, for example, getting female professors is not done, but the key is there's a plan to make it happen."
Formed in 2002, the Steering Committee for the Women's Initiative - 16 women and men - met together and in working groups for a year, assessing the situation for women, crunching data and interviewing all constituencies at Duke. In its report, the committee cited work-life balance, mentoring and professional development, gender and diversity and respect and communication as critical areas for progress.
Employees identified child care, parental leave, flexible work arrangements, mutual respect and equal opportunity for advancement in the workplace among their most pressing concerns.
Before the report was published, the Women's Initiative began to touch the lives of both women and men with the announcement of a $2-million expansion of Duke's on-site child care center, resulting in more slots for children of employees, faculty and graduate and professional students. Soon after the report, Duke introduced a three week paid parental leave for staff; guidelines for flexible work arrangements; the Duke Child Care Partnership for better access to 29 area child care centers, and most recently, a $5,000 annual employee tuition reimbursement for professional development.
"This tuition benefit will give all employees a chance to complete their education or start it," said Gwen Rogers, a staff assistant in Women's Studies, who will use the benefit toward a bachelor's degree at North Carolina Central University. "When you're paying yourself, that's a lot of money."
What's ahead for the Women's Initiative?
Brodhead said he and his leadership team will keep Duke focused on equity issues for all constituencies. "All of us have work to do in keeping gender issues visible and moving toward our goal: a world of full equality and respect for all."