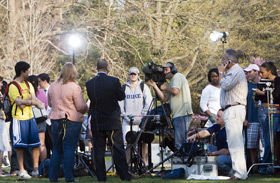 President Richard H. Brodhead reached out to groups on campus and beyond Thursday, responding to concerns about the situation involving the men's lacrosse team.
"It's understandable to feel badly when terrible things may have happened at a place you love, and I've heard from many of you who have expressed sadness, anger, outrage and frustration about the lacrosse situation," Brodhead wrote in an e-mail message to alumni. "Let me also say that as painful as these times are, the test of a school is not preventing bad things from ever happening, but in addressing them in an honest and forthright way. In my meetings with students, faculty, and administrators, I believe Duke is doing just that."
In a similar message to parents, Brodhead said he would "gladly have spared your sons and daughters this experience. But painful as these days are, times of strain can also be times of education. We will be working as always to assure the welfare of our students, and we'll be struggling to make this an occasion where we can all grow in wisdom."
Team members have been accused of sexually assaulting a woman at a March 13 off-campus party. They have denied the criminal allegations, which Durham police are investigating. No charges have been filed.
Brodhead began the day at a private meeting with Durham Mayor William Bell, North Carolina Central University Chancellor James Ammons, local ministers and leaders of the Durham Committee on Black People.
After the meeting, Ammons told the Durham Herald-Sun, "I thought that it was a very good beginning to, first of all, share our feeling about the seriousness of these allegations and our stand against sexual violence against women, racial discrimination and racial hate, and to share our concern about the young lady who was obviously traumatized by these alleged acts and to find a way to be respectful of the legal process, to let it play out and not rush to judgment."
Later in the day, Brodhead met with members of the Trinity College Board of Advisers. In the afternoon, he spoke at a well-attended, occasionally contentious faculty meeting, once again addressing both the specific incident and broader issues such as Duke's relations with the community. The faculty meeting was held in executive session and was closed to non-faculty members.
Duke's president was not alone in discussing the situation, which has become a focus of intense discussion across campus and beyond. Television trucks once again lined up along the West Quad, with reporters interviewing students and others for stories that have filled the airwaves and the front pages of major newspapers. A Google search Thursday evening produced more than 1,000 stories on the situation, from sources ranging from the New York Times to Sports Illustrated.
A sample of recent media coverage, along with materials that include Brodhead's letters to alumni and parents, is available on the website Duke has created about the situation.