Even in 'retirement,' George Maddox still serves the community
Expert on aging wins Humanitarian Service Award for work with retiree group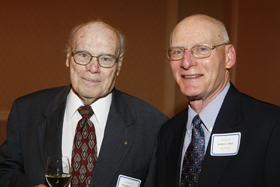 As a white teen-ager working on the railroad in Mississippi, George Maddox was troubled to learn that the 48 cents an hour he earned was the same rate paid to bright, hard-working black men who had been working all their lives.
"Something struck me as not right," said Maddox, professor emeritus of sociology at Duke. "It was the beginning of a revolutionizing experience."
Maddox's revolutionary spirit has been a constant the last 60 years. During that time, his work has shifted from righting wrongs in the segregated South, to making systemic changes that improved the lives of the elderly, to working with school children from low-income neighborhoods. This life-long commitment earned Maddox the most recent Duke Humanitarian Service Award, which was given on Founders' Day.
"It turned out to be a very good career," Maddox said.
Much of Maddox's life has been spent advocating for others. After his experience with the railroad, and then witnessing racism in the military during World War II, he attended MillsapsCollege in Jackson, Miss., on the G.I. Bill. He then completed a doctorate in sociology at MichiganStateUniversity before returning to Millsaps to teach.
Millsaps, at the time, was an ethical island in the segregated South. Its faculty exchanged courses with the faculty at the historically black college of Tougaloo nearby. After federal troops came into Little Rock, Ark., to enforce integration of a high school, "everything exploded," Maddox said. As one of the white faculty members at Millsaps who also taught at Tougaloo, Maddox was targeted for threats and verbal abuse.
"The race relations changes made it impossible to live there," Maddox said. "There were bombings and threats around the clock. My wife and I were 'forcefully asked' to leave the state."
Maddox had a friend on the faculty at Duke who knew of an open post-doc position at the medical center. Maddox came as a Russell Sage Fellow in 1959, but heplanned to stay only a short while "until things settled down" in Mississippi. "But they didn't settle down." So, for the past 46 years, Maddox has been the driving force at DukeCenter for Aging, where he has channeled his humanitarian instincts to give voice to the elderly and infirm.
His work has garnered many accolades. He was awarded the Order of the Long Leaf Pine, the state's highest civilian award, for his work on long-term care.
In 1986, he received the Kleemeier Award, the most prestigious award given by the Gerontological Society of America. Debbie Gold, who met Maddox when she served as a post-doc at the Center for Aging about 20 years ago and went on to serve as director of two programs that Maddox started, said the presentation of the award was a classic Maddox moment.
Maddox gave "a brilliant speech" at the ceremony, she said, "all the while his gall bladder was rupturing." After returning home from the speech, he was immediately hospitalized and his gall bladder removed.
"This is George," Gold said. "He thinks of others long before he thinks of himself or his own comfort.
"He is the ultimate professional," she added. "Yet he never loses sight of the people behind the professional regalia."
Sandra Crawford Leak, who worked for Maddox as a graduate student in the late 1980s and now serves as a senior policy analyst for Duke's Long-term Care Resources Program, said Maddox believed in reaching the consumers who would be affected by his graduate students' research.
"He always tried to make what we wrote accessible to as many readers as possible," Leak said. "He loved to be engaged with people of all ages. He said, 'If you want to do something for tomorrow's older adults, take care of today's children.' "
After Maddox retired from teaching, he became actively involved in the Duke-Durham Neighborhood Partnership. To that end, he was one of the founding members of the Duke University Retiree Outreach (DURO), a volunteer organization of Duke employees that helps LakewoodElementary School. He also served as DURO chair, helped secure a $12,000 grant from The Duke Endowment to aid the school and continues to volunteer with DURO.
Throughout his life, Maddox has served in a number of leadership roles, including on the board of The Forest at Duke, the Friends of Residents in Long Term Care (a statewide advocacy group for vulnerable older adults and their caregivers) and director of the Duke Leadership in an Aging Society program.
Maddox said his philosophy is "Staying engaged is the best way to age." Four years ago, the Robert Wood Johnson Foundation noticed a successful initiative he led on community-based teaching and learning strategies to support caregivers of aging adults. The foundation expanded the concept into a $28-million nationwide program. At age 76, Maddox signed an eight-year contract as a consultant.
"They're optimistic," he said, "and so am I."
Because he started his work in aging when he was young, growing old held few surprises for him, though knowing what is ahead doesn't make it easier in an emotional sense, he said. He knows that aging is harder after age 80, and he said he celebrates every good day he has.