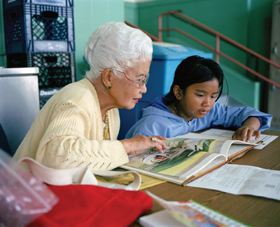 Photographs by Sanford Institute professor Alex Harris will be exhibited in the rotunda of the Russell Senate Office Building in Washington, D.C., July 11-15.
"Experience Corps and the New Wave of Civic Engagement," documents a national literacy project that pairs senior tutors with children in urban schools and after-school programs. The 19 photographs " a mixture of color and black and white images " were shot in 2000 and 2003 among Experience Corps mentors in Boston, New York, Philadelphia, San Francisco and Portland, Ore.
"These photographs address a policy issue " the quality of public elementary schools " and document a program that is improving these schools," Harris said. "My hope is that people will see these photographs in Washington and realize the potential of Experience Corps to make a difference in particular schools and in the lives of individual children and adults, but also -- if expanded to other schools and cities -- to affect the life of the country."
For the last five years, Harris has collaborated with Experience Corps and Civic Ventures, a think tank, to document the lives of older Americans working to revitalize their communities.
Now in 14 cities, Experience Corps offers service opportunities for Americans over 55 years of age. More than 1,800 corps members serve as tutors and mentors to children in urban public schools and after-school programs, where they help teach children to read and develop the confidence and skills to succeed in school and in life.